Samsung Announces New Bio Phone
Article Comments 44
Aug 14, 2008, 7:54 AM by Eric M. Zeman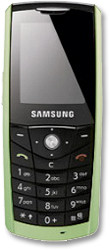 Today Samsung announced a new phone made partially from bioplastics. The E200 Eco is a new bar-style phone, and its entire exterior case is formed from bioplastics, which are materials extracted from corn. The E200 has a 1.3 megapixel camera and media playback capabilities. Its charger has been made without a flame retardant material that is harmful to the environment, and the phone's packaging will be made from recycled materials. The phone will be available in Europe in September. No U.S.-based carriers have announced plans to carry it.
use some intelligence people....
when the news link says : "Its charger has been made without a flame retardant material that is harmful to the environment"

it means that the charger, did not use harmful (AKA ECOFRIENDLY) flame retardants. not that it USES HARMFUL RETARDANTS.

anyway, this is an amazing feat. This will probably become a standard in years to come. Especially from an innovative manufacturer such as samsung. All the food jokes aside, corn is an extremely versatile substance, and the majority of it these days is NOT used for food products.

This is simply revolutionary. It will catch on. Mark my words.


*grabs a bag of corn nuts and starts munching*

-K 🤣
I hear ya bud. the jokes are rather "corny". with all the bashing that goes on, its refreshing to see some fun. but you are right. corn has been tested for years and it will catch on in other manufacturing feats such as fuel.
just think though:
thi...
(continues)
🙄

not like we ever said it was a bad idea

we were just poking fun at it

and yeah, it prolly will get big since we're all now just realizing how much of slobs we are

♥ Cy
REALLY?
Its charger has been made without a flame retardant material that is harmful to the environment,
I hope this is a misprint. I am sure it is, but just in case I will make sure Al Gore is notified.
there are many flame retardants that can be utilzed. they are eliminating the ones that are bio hazards. just think though, the phone is partially made from corn. you will have something to eat anywhere on the network.
you'll tell Al Gore? who do you think this thing is targeting--- i would leave the flame retardant off anything i know is going to Al Gore's house too.
So....what happens in a fire or it overheats...will it pop? I can just imagine the lawsuits now. lol
if they can make plastic out of corn...

why do we still eat it? 👀

makes me think of what jim gaffigan said about margarine... he left it out and it turned into gasoline.

let's all eat corn with margarine and die 🤣

♥ C...
(continues)
it probably tastes like corn nuts...

♥ Cy
for a phone made from old animal bones. 😳
GOOD!!!
I'm glad no U.S. carrier wants to pick up this fire hazard! I'm currently building an ECO-Concentration-Camp (ECC for short). I'm going to throw all the people who believe in man made global warming in my ECC.

shouldn't this phone be labeled as refurbished since its made out of a bunch of USED parts?
Uh not refurbished. It says the materials where extracted from corn. Not at all taken from other phones. But it is being eco-friendly so I think it will get lots of attention. However I would like to see more trendier phones that are also eco-friendly...
(continues)
Don't wanna hear about the temperture in guatemala, don't really see what all the fuss is about. Not gonna worry 'bout no future generation and all, I'm sure somebody gonna figure it out. o/"