Nokia Brings More GSM To The Fold
Article Comments 4
Aug 12, 2008, 9:24 AM by Rich Brome @rbrome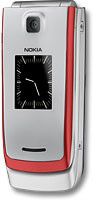 Nokia today announced the 3610 Fold phone. This mass-market clamshell phone is quad-band to support GSM networks worldwide. Like the company's 6555 and 3555 3G phones, the shape of the 3610 Fold forms a smooth curve on the back when open. Key features include a 1.3 megapixel camera, 2-inch display, and a memory card slot supporting up to 4 GB. The phone is expected to ship within six weeks.
Is this phone only...
going to the U.S. or also to different countries?
Definitely other countries. US is very possible, but not confirmed.