MetroPCS Launches Messager from Samsung
Article Comments 100+
Aug 8, 2008, 5:12 PM by Eric M. Zeman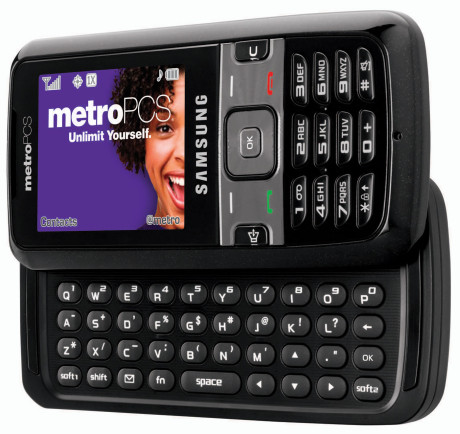 Today MetroPCS announced the addition of the Samsung Messager to its lineup of phones. The Messager is a sideways slider with full QWERTY keyboard. It has a 1.3 megapixel camera, SMS, MMS, email and IM messaging capabilities, Bluetooth and speakerphone. It also has an external micro SD slot that supports cards up to 2GB. Pricing and availability was not immediately provided.
Samsung Scoop?
Hello Samsung, did you make a phone almost the exact same as the LG Scoop? Oh.. you almost did? Wow, that's cool. You are pretty clever. Samsung are you the world leader in bootlegged cell phones? The x427m was the best phone Samsung made, it was orignal.
LG Scoop??? I thought it looked more like the LG Rumor! 😁
Pretty sure Samsung is the "Parent Company" to LG

👀

1st post!
Samsung
What is up with Samsung and 1.3 megapixel? They've made only one phone with a higher quality camera - - and they went a little overboard on it. 🤨
main question...
does it give backrubs like its name suggests? 😉
I think we need clarification at this point. 🤤
Forget that.....does it give a happy ending? 🤣
🤭 yeah that's the rumor phone
Uh, I think it's messager, not massager.