Sony Ericsson Announces Three New Walkman Phones
Article Comments 5
Jul 22, 2008, 7:18 AM by Eric M. Zeman
updated Jul 22, 2008, 7:46 AM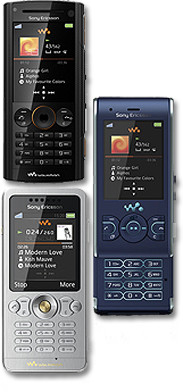 Today Sony Ericsson added three handsets to its Walkman lineup of phones. All three feature quad-band GSM/EDGE radios, stereo Bluetooth and FM radios. They will be available in select markets in the fourth quarter.
W902: This high-end, bar-style music phone has many of Sony Ericsson's signature music applications and services, such as SenseMe and Shake Control. It also carries a 5 megapixel camera with autofocus and image/video stabilization. It comes preloaded with Google Maps, the Access NetFront HTML browser, and Microsoft's Exchange ActiveSync software for mobile email. It also has a scratch-resistant, 2.2-inch QVGA display. It will be boxed with an 8GB M2 memory card, but only supports European 3G networks.
W595: This slider phone shares many of the features of the W902, but downgrades the camera to 3.2 megapixels and loses autofocus. It's 2.2-inch display is not scratch resistant. It adds a Share Jack, for sharing music with friends. It comes with a 2GB M2 memory card, and also supports European 3G.
W302: A more affordable bar-style model than the previous two, the W302 has a 2 megapixel camera and comes boxed with a 512MB M2 memory card. It has a WAP browser, and does not support 3G networks at all.
Scratch Resistant!
Why doesnt everybody do this with screens. My bb has a scratch.
How dare you compare a Sony Ericsson to a BB?


just kidding... 😉
I think the Bold will have a scratch resistant screen.
I don't care about European 3G phones!
I thought PhoneScoop covers wireless news having to do with the U.S. I can care less about phones that are compatible with Eurropean 3G networks!!!
Go ahead and think and stay local. I appreciate the global info. Every now and then I get customers from overseas that want an unlocked phone they can use over there.
Just because the phone was announced (today) with 3G for the European networks (for now) doesn't mean that there won't be the alternate American versions of them in the near future

ahem, N95 -> N95-3