AT&T Web Site Offers the Samsung a227
Article Comments 8
Jul 16, 2008, 1:38 PM by Eric M. Zeman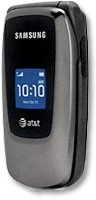 The Samsung a227 recently appeared on AT&T's business web site. This basic clamshell has quad-band GSM/EDGE radios and a full HTML web browser. It offers mobile email, an MP3 player, and SMS and MMS messaging capabilities, but not Bluetooth, nor a camera. It will cost $10 with contract.
yeah..but...
iphone is still better...
yeah..but... not every one wants to pay that much
What does that have to do with anything? Wow. Where do thoughtless comments like this come from?
Any comparison of this phone to the IPHONE is not valid...this phone is so basic and only targets the less than credit worthy folks.
!Gosh! I didn't think that in Julx 2008. . .
That bluetooth would be considered extra?!!? Aren't there phones out there that are free w/2yr that have bluetooth?!!? Anyway, that's all I've got to say about this piece of copper & plastic that AT&T calls a cell phone.