Review: BlackBerry Bold 9700
Form Basics Extras Video Wrap-Up Comments 3
Is It Your Type? Body The Three S's
Nov 5, 2009, 12:00 AM by Eric M. Zeman @zeman_e
Phone Scoop takes RIM's new Bold 9700 for a spin. Top-notch build quality and a solid software experience make this smartphone a better 'Berry.
AD article continues below...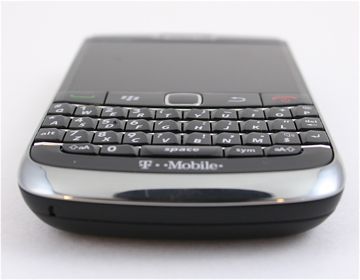 For T-Mobile and AT&T customers, the BlackBerry Bold 9700 is a long overdue - but welcome - addition to both carriers' 3G smartphone line ups. In fact, it's the first 3G BlackBerry for T-Mobile. That, in and of itself, is big news. Research In Motion has tackled the number one concern about the original Bold - its size - and introduced a smaller smartphone that is extremely capable and looks good.
Release date / RIM application mkt questions
Hello all,

Has there been any official word on the release date to this phone for tmobile?

Is the BB application mkt compatible to the iPhone/android mkt?
Why the phone not put in 3G mode?
Can you please put the phone in 3G mode, and show us how fast the pages load on 3G, if you are in a 3G area? Thanks.
T-Mobile's 3G signals don't reach my basement, which is where my studio is.

Web sites loaded pretty quickly via 3G, but not super speedy fast.