Verizon Wireless Announces the LG Dare
Article Comments 64
Jun 26, 2008, 8:09 AM by Eric M. Zeman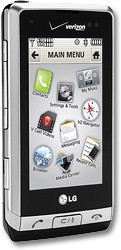 Today Verizon Wireless announced the LG Dare, a new touch device first revealed by LG a couple of weeks ago. This compact phone has an updated user interface compared to other touch phones on the Verizon network. It is far more intuitive to use. The Dare focuses on providing a solid camera and video experience. It has a 3.2 megapixel camera with flash, face detection, panorama mode, and Schneider-Kreuznach certified lens. There are powerful on-board editing tools. The video camera records up to 120 frames per second, and can playback video in slow motion. The Dare also has Bluetooth 2.1+EDR and supports stereo Bluetooth as well. It has a microSD slot and supports cards up to 8GB in size. Lastly, it has a full HTML web browser and works with Verizon's V CAST services. It will cost $200 after rebate with a new agreement. The phone will be available beginning July 3.
Anyone know when it will be available for employees?
I'm getting a little impatient with the fact that we aren't the first ones to get these new phones 🤨
they say they go on sale july 3rd. i dont know if we can order them earlier to have them for july 3rd, or have to order on july 3rd, but either way we should have them by monday 🙂
Have played with this phone and must say....
this phone will be mine, oh yes, it will be mine.

I am having to pay full retail, but from what I have experienced with it, it will be well worth it!
fyi, Verizon started a main steam policy recently that used to be special occasion only. If any line is on a $50 or more per month access for that line, you can do a 2 year renewal on that line and get any phone at the sales price. There can not have...
(continues)
I'm curious as to how the touch screen on this phone is for texting, I seem to have a hard time texting with touch screen buttons, but really want this handset! 😛
😁 You can find more information and buy it online effective today too. Upgrades and new contracts only though...its still not allowing outright purchases. www.vx9700.com and www.verizondare.com has pictures and a link to buy it already.

i CANT w...
(continues)
can someone comment on the calendar. Is it the same old lame one on all verizon phones, or can you put notes on the appointments?
Dare vs. Vu vs. Prada
Isn't this the exact same phone? Just different carriers? 😕
similar. each has slightly different features. but pretty much the same. of course, the dare has an advantage with the vzw network 🙂
ENOUGH ABOUT THE PRICE.. GET 2 THE PHONE ALREADY
ok, i've been watch/reading phonescoop for a couple of years and this is my 1st msg.
WOULD SOMEONE PLEASE TALK ABOUT THE PHONE ITSELF. how is it for texting?? any big-handed ppl out there try using it yet? how is the speaker phone.. ty ty for any feedback 👿
the phone itself is amazing... Speaker phone is louder and clearer than the voyager... touch is easier to navigate, more accurate... i'm 6'3 and i got some pretty big hands and it isn't a problem for me just takes more attn than i'm used to giving it ...
(continues)
Lg Dare
Can you buy this phone online now? Or do you have to wait till July 3
www.vx9700.com says u can buy them now
LG Dare in route to me casa!!!
Yeah, just got off the phone with Josh from CS and he hooked me up with my new Dare. Should be showing up at my house no later then wednesday of next week!!

WOOT!

We didn't really talk about any the criteria, I have a 700 Select 2 Line, and I used my NE2 on the primary to get it.

$149.99 PLUS a $50 MIB. So I am getting it for a cool bill. I can't even get that kind of satisfaction out of a stripper for $100.
nice for only a bill, you cant beat it. i would have ordered it online tho. i ordered mine at 300pm yesterday and it should be at my house no later than 300pm today. thats crazy, and i cant wait to play with the phone 😎
Dare=Voyager+Roids?
Other than some neat little editingsoftware, and a modified UI, is the Dare really all thatinnovative? Would really like some feed back. I currently have a Voyager (in fact thats what i write to you on) butI'mthinking of leaving for the newiphone. So what do you think,roidedout Voyager or the fruit?
Ringtones
I got this phone today and it is awesome. I only have one problem. I make a ringtone through bitpim, put it on the memory card in the my sounds folder, I put the card back in my phone and it sounds great, but when I send it to my phone through a picture message it sounds like crap. Can anyone help me out? I never had this problem with any other phone I had. Please help.
Eddie,

The only thing I can think of is a loss of quality in the picture message travel. I would stick to the mem card method.

I just ordered mine tonight, and I super stoked.

What are your thoughts so far on the touch screen?
How To Order
I was having a lot of trouble ordering it, called 3 times with no results, wouldn't load on the upgrade page @ vw.com and i found that if you go like you are going to upgrade to the voyager, change the last 4 numbers to "3885" then it works... if anybody wants to do that...
LG Dare
What's the difference between the Instinct and iPhone?
why dont you go to the instinct forum, or even the iphone one... stupid
Iphone is the only device touch based device that is multitouch, that's really the biggest difference.

I'm not a jerk like the other person who responded, but if you want to know something very specific then go to the phones forum where you'll come...
(continues)
Way to ignore the topic ;)
Available for new upgrades now
www.vx9700.com says you can upgrade it online already. 😁 I cant wait