Sony Ericsson Unveils Two Entry Level Phones
Article Comments 1
Jun 17, 2008, 5:35 AM by Eric M. Zeman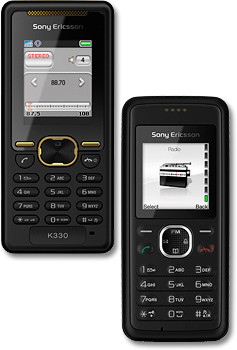 Today Sony Ericsson took the wraps off of two, new bar-style phones. Both come in two dual-band configurations, each with a GSM 850/1900 variant for the U.S. market. They share only a few features, one of which being what Sony Ericsson calls the torch function. This mode brightens the display, acting like a flashlight of sorts, in order to help the user move around and find things in the dark.
K330: This camera-centric phone has a VGA shooter and enough on-board memory to hold 250 images or up to 12 minutes of video. It comes with an FM radio, Bluetooth, WAP browser and has a 1.7-inch screen. The K330 will come in gold or green on black, and will be available in the third quarter.
J132: This is a simple phone loses the camera and browser, but its FM radio supports RDS. The radio can be played via the speaker and it has a radio clock alarm, allowing you to set alarms to your favorite radio station. The keypad is resistant to dust. This phone will be available in black or blue and should be available in the fourth quarter.