Samsung's Glyde Slides Open at Verizon
Article Comments 16
May 8, 2008, 7:30 AM by Eric M. Zeman
updated May 8, 2008, 7:58 AM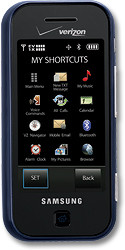 Today Samsung announced the SCH-u940 Glyde, a new sideways slider for Verizon Wireless that has a touch screen user interface on the front. The Glyde is a CDMA version of the F700. Its UI is based on Samsung's Croix interface, but has been heavily modified for Verizon. It features haptics feedback and measures 240 x 440 pixels. The Glyde also slides open to reveal a full QWERTY keyboard for messaging. Other features include a 2 megapixel camera with autofocus and flash, a microSD slot for storing media (supports up to 8GB), and stereo Bluetooth. The Glyde has EVDO data, a full HTML browser, and supports Verizon's Get It Now and V Cast services. The Glyde will cost $250 after rebates with a new two-year agreement.
source: Samsung
"Heavily Modified for Verizon" Say goodbye to 3/4 of the features.
That's one of the reasons I left Verizon. I couldn't take the crippled user interface anymore. I had no freedom to use my bluetooth for my own personal use and java programs. GSM phones are the best way to go. Long Live Freedom!
Freedom with Tmobile roaming.. Thats freedom alright 🤣 🤣 🤣
Tmobster, have you ever been happy or positive about anything a day in your life? the fact that verizon allowed an outside UI at all is close to amazing, so they modified it to fit their programs is no big deal! everyone always complains that VZW alwa...
(continues)
Actually, I was impressed with how much they didn't change. Is is modified for Verizon, but I think they managed to integrate Verizon's required menus quite well, without "ruining" or "crippling" Croix at all.

For example, there's the "Veriz...
(continues)
Not what I expected, Any questions?
This phone is nice, but it is not what I expected. There are too many flaws from touch screen, to browser viewing to speaker phone, etc. Will have a decent review posted by end of day.

Have used phone for 3-4 days so if you have any questions, let me know.
How is the keyboard It seems a little crowded?
Nice...
but I wonder when Samsung is going to start tacking on that 5 mp camera to feature rich handsets like this. Would've put it over the top, imo.