Cell Phone Recycling Guide
Intro The Why By Carrier By Charity Charity of One Comments 20
Dec 22, 2004, 7:00 PM by Eric Lin
Phone Scoop's comprehensive guide to recycling your old cell phone. All about why you should do it, your options, and alternatives.
AD article continues below...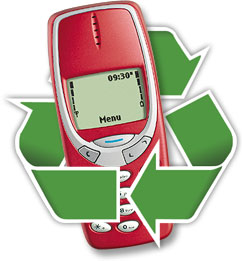 We cannot, in all good conscience, publish a buyer's guide recommending that you buy new handsets as gifts for loved ones (or even yourself) without recommending what to do with the old models. If the phone being replaced is new enough, you can always sell it off or hand it down to a deserving friend or family member who could use a newer model. However at some point in the hand-me-down chain, there is an old phone that is either going to collect dust in a drawer, or worse, wind up in the trash. It's these phones that we're after.
Experts estimate 55-100 million mobile phones will be retired this year. Despite the growing number of phones being recycled year after year, it is still less than 5% of replaced handsets. Unfortunately, far more (about 25%) are estimated to wind up in the landfill. The rest are handed down or laid to rest in a closet or drawer.
Clearing out data before donating?
What exactly does one have to do to remove personal data or account data from a cellphone one wishes to donate? E.g., remove the SIM card if a SIM-card-based phone; or wipe/shred data if a PDA-cum-phone?
You would definitely want to remove the sim and you would want to perform a master reset. You would also want to delete out the VM number.
Like phonescoopjunkie and eric Lin both said. It is extremely important to clear off the data. Don't want personal information for your friends and family to get out.

At our store, we give the SIM cards back to our iDEN customers and then do a Mas...
(continues)
Buyback Programs
Mr. Lin, I need to correct you. Nextel is not the only carrier to have a handset buyback program. SprintPCS launched theirs in October. You can get up to, if I recall correctly, $75 credit when returning your old handset and buying a new one.

Unfortunately, I don't have access to the details anymore. If you call Sprint and the representative you speak to doesn't know about it, either, ask them to look up "Handset Buyback" in Wizard.
Slander, i'm looking into this. there's no information on the program on sprint pcs's public website. in fact, they state they might offer a buyback program in the future. however after you raised this issue, i did find this information on Sprint PCS ...
(continues)
Cingular also has a buyback program for certain phones. When switching for AT&T to Cingular. It's about $75 on phones like the V600, Nokia 6800, etc. It offers a nice incentive for switching over to Cingular.
There are also better places to sell old nextel. Try www.betterbuyback.com

They buy old nextel phones and claim to pay more than Nextel.
blood diamonds?
Can someone explain this term to me?
Blood diamonds. People forced into slavery to mine diamonds so the greedy can get that almighty dollar.
emergency uses
If you know anyone who does not have a cell phone your old one can still be used by them without signing up with a provider. 911, The most important feature will still be available to them for free. Remember to show them how to work it and provide them with a charger and battery.

This feature will be beneficial to anyone and certainly the senior set.
Amazing Article
I have been working in the wireless department of a major retailer for about 2 years now, and people always ask me what they can do with old phones. they usually want to trade in the phones and get a store credit, but we do not offer that. What i always tell them to do is to donate it directly to a battered women's shelter. The idea is just brilliant. It definately helps out the customer b/c it means they don't have old phones sitting in their basement, collecting dust; and it helps women who are in a situation in which they need help. As a friend to a woman who has been in that situation, I know that it is tough. In fact, when i found out she did not have a cell phone, I found an old phone in my basement that had not been activated in...
(continues)
There is an even deadlier reason why it is critical that old phones don't get tossed away- people are literally dying for them. The legacy of "blood diamonds" is well known, however the fact that a similar arrangement exists to mine coltan (Columbium ...
(continues)
Excellent article
Great advice and an excellent article - don't just toss away that old handset!
I think im going to do it!
Thanks Rich for telling me, i have many old phones that i was going to throuw away in a couple of days, i never knew that you could do this, i actually went to staples and saw these cell phone recycling bins, thanks for the tip Rich! I feel good about what i did now! 😁