FCC Sheds Light on NFC-Equipped Phone from Citi
Article Comments 5
Mar 19, 2008, 3:06 PM by Eric M. Zeman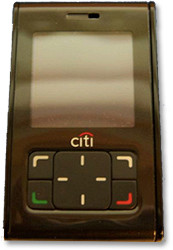 The FCC recently revealed information about a phone manufactured by Mobicom, but is branded by Citi. The Plus II is a small dual-band 850/1900 GSM bar-style phone that has no numeric keypad. It uses the navigation buttons to move around the menus, enter text, and interact with the phone. It has applications such as an MP3 player, and the built-in accelerometer lets you scroll through menus by tilting the phone around. The NFC technology on board will allow users to make mobile payments when paired with a mobile banking account or credit card. Citi has not announced this phone, nor have any carriers said they will carry it.
what?
no keypad, not touchscreen?

a step backwards, I'm guessing.

Use as credit card? Meh, kinda cool, i suppose, but not cool enough to have me jump on one. Maybe if Citibank gives these away for free then MAYBE. Just pop in your sim. That'd be kinda neatish.
yeah, I thought the same thing what the heck is the deal with no keypad?!!?
RFID Keychain
I have had a keychain RFID debit linked thingy for a couple of years now. That thing is a lot better than some crappy phone with no keypad. Why bother with this thing.