EmporiaLife Approved by FCC
Article Comments 13
Mar 11, 2008, 9:10 AM by Eric M. Zeman
updated Mar 11, 2008, 9:16 AM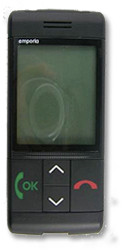 The EmporiaLife, which is a phone designed with senior citizens in mind, was recently approved for use in the U.S. by the FCC. It is a slider that features a big monochrome screen and large buttons. The default screen provides quick access to contacts. It also features a flashlight built into the phone, and has dedicated alarm clock and lock keys. There is a large red button on the back for making emergency calls. It comes in two dual-band versions (900/1800, 850/1900) and will run on AAA batteries. It has not been officially announced with any U.S. carriers but it will work on certain U.S. networks.
It also has
a quick-press button that will dial customer service so they can complain quicker.
Pants Pissers unite!
Sweet but the pants pissers will still not be able to figure out how it works. "Whats this big green button for?" 🤣 Honestly if they want a phone for old people they should just make one with a rotary dial and nothing else. 😉
AAA batteries?
Come on. Senior citizens aren't THAT dumb.

I have a feeling the red button on the back will accidentaly be dialed often. Just a guess on what I read.

This phone better be hella loud.

I'm glad someone other than Samsung's Jitterbug is finally making a phone for older people. This needed to happen years ago for every carrier, however.
senior citizens make up a fast growing segment of our society.

The "baby boomers" are getting older, their fast lifestyle is catching up with them. Their bodies are showing signs of age.

Why not accommodate them?

why not offer a phone for the...
(continues)
It has a regular phone battery, but can run on AAAs if the main battery dies.
YESS !!!
Im going to get this phone for my CAT !!! 😁