LG Announces the Touchscreen Glimmer with Alltel
Article Comments 21
Mar 11, 2008, 8:45 AM by Eric M. Zeman
updated Mar 12, 2008, 8:27 AM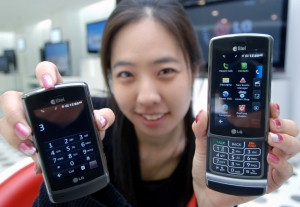 Today LG announced that it will begin offering the AX830 Glimmer through Alltel in the U.S. The Glimmer is a slider with a 2.8-inch touchscreen and touch-based user interface. It includes haptic feedback, a 2 megapixel camera, a microSD slot that supports 4GB memory cards, and Bluetooth. The Glimmer will cost $250 after rebates and a new two-year contract. It will be available beginning March 13.
Not bad!
If only a GSM version of that could come to at&t.......
is hawt!

if she wasnt in korea i would totally wreck that chick.

oh yeah and the phone looks nice
whatever man. AT&T has the cream of the crop when it comes to phones. I don't know what you're complaining about. The BEST phones are on AT&T.

I don't work for, or have an AT&T phone, by the way.

Sprint Katana II.
dont even think about whining...gsm gets all the new phones...can cdma get a little love now and then???
why not me!?
why is it that sprint always seems to get shafted on the new phones..

sprint is a cdma giant and it doesnt have a cool touch screen lg phone with haptic feed back and a 2.0 camera..

NONSENSE!!