Review: iPhone 3GS
Form Basics Extras Video Wrap-Up Comments 21
Is It Your Type? Body The Three S's Touch
Jun 22, 2009, 12:47 AM by Eric Zeman and Rich Brome
Phone Scoop takes an in-depth look at the iPhone 3GS, its new hardware, and the new iPhone 3.0 operating system.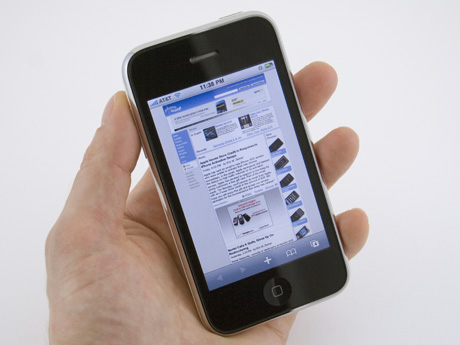 Apple kicks off the Summer of 2009 much the same as it has the previous two summers with a new iPhone. This year, the iPhone 3GS makes its debut and brings with it new hardware, new software and a whole lot more functionality in a vastly changed market. The iPhone may be a polarizing device - it has many fans and many haters - but you can't deny that it is an important device in the world of cell phones. It has had a serious impact on the overall cell phone market. It has forced competitors - such as RIM, Samsung, LG and Nokia, to respond with touch-based devices of their own - all with varying degrees of success.
Is the iPhone 3GS your type? If you view your phone more as a portal to the Web and all that the Web offers when on the go and less of an actual phone, then I say yes.
This year, Phone Scoop is going to focus on what's new with the iPhone 3GS and the new 3.0 operating system.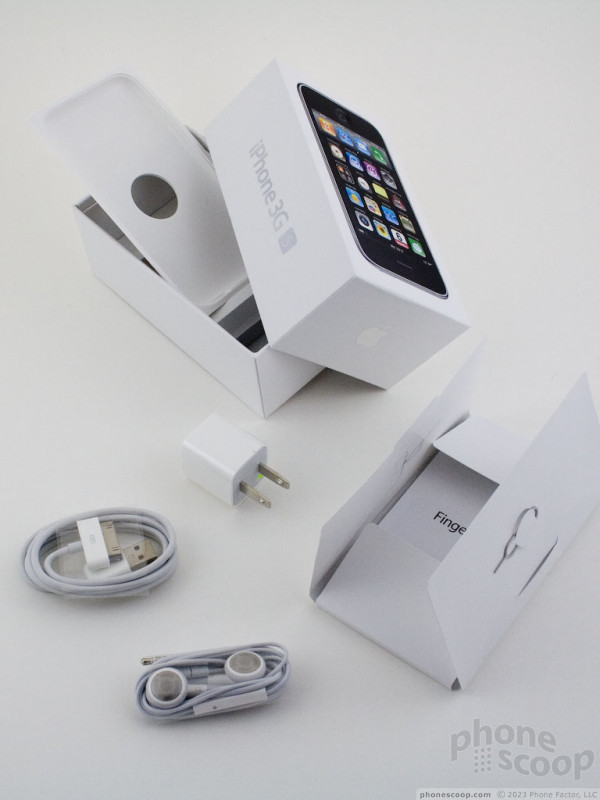 charger, USB cable, headset, quick start guide
Multitasking question...
Can someone define cellphone multitasking for me... because as far as I can tell, the iPhone does it, you can pick up where you left off on any application... and swap to another... Like, safari, to media, to an app, and then back? As far as I can tell that's multitasking in a fashion, if not definitively. Does the application have to stay completely open, using resources to be considered multitasking? Or what?
Not exactly, at least that's not been my experience in the short time I've had my 3GS, I've had no prior experience with iPhones.

The catch-phrase that seems to be kicked around is 'no 3rd party multitasking'. Apple's stuff in ROM seems to multita...
(continues)
It sounds like your current understanding is correct.

The iPhone does do a decent job of pseudo-multitasking. It's not actual multi-tasking, but most apps do load quickly and pick up right where you left off, which is most of what multi-tasking is ...
(continues)
Rich or Eric
Good review. Makes me happy I didn't drop the 500 bones for the new one since I upgraded to 3.0 on my 3G and got most of the function. Quick question though. How did the battery life compare to the 3G? And of course, do you think Apple will bring the new polymer battery technology to the iPhone next year? I'm seriously going to wait till next year, as I suspect that it will happen, and a few other larger things.
the 3GS has 5 hour talk time same as the 3G. same with standby.
Ya Missed Some Stuff...
Doesn't seem like you really spent a lot of time getting in-depth experience with the new device... Very opinionated, not very comprehensive.

In the inbox, or any mail folder, you can now multi-select messages for deletion, moving to other folders, etc. That's an important new feature readers might like to know about.

You missed the variable-speed advancing through audio files in the media player.

You described the coating on the screen as something to make it smudge-proof. Actually, it's there to make the smudges easily wipe off. Works pretty well. Now, wiping with a sleeve, your pant-let, or a soft cloth actually produces a clean screen instead of just smearing all that grease around.

Something worth your mentioning regard...
(continues)
You said: "Doesn't seem like you really spent a lot of time getting in-depth experience with the new device... Very opinionated, not very comprehensive."

I say: How the hell was this piece opinionated? We presented the good and the bad as a matter ...
(continues)
It's not the goal of our reviews to list and describe every single feature. Apple's web site and other materials are a better place for that. We use it as extensively as we can (in this case, in a limited amount of time) and report on the features ...
(continues)
Eric and Rich great review needs an update though!!!
Awsome review and very non biased! The one thing you got wrong (that I noticed) was you said they didn't change the media player... But they did, they made it so you can fast forward or rewind at different speeds depending how close or far you slide your finger along the "time bar" what I mean is if you're at 2:25 I to the movie and you want to jump to 15:42 you can keep your finger on the status bar till your close to 15 minutes then you continue sliding your finger down to adjust the scrubbing rate, I think it's a hugehelp when listening to the hidden track at the end of a song
We saw that. Didn't think it was a major improvement in the functionality of the software. Also, similar functionality was there before, it just wasn't automatically viewable while music was playing. You had to jump to a secondary screen to use it.