Sanyo's First Direct Connect Phones Approved By FCC
Article Comments 34
Feb 22, 2008, 3:57 PM by Eric M. Zeman
updated Feb 23, 2008, 1:53 PM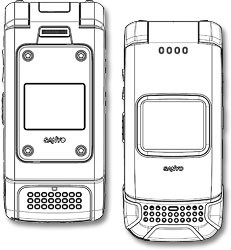 Today documents on the FCC site revealed the PRO 700 and PRO 200 phones from Sanyo. Both are clamshell CDMA phones with dual displays, EVDO data, Bluetooth, and Direct Connect Push-To-Talk capability. Not much else is shown in the documents, although there is no indication that either phone has a camera nor memory card slot. Sprint has announced plans to introduce a CDMA-based version of Direct Connect to eventually replace the aging iDEN system and legacy ReadyLink technology. This PRO series from Sanyo - along with the recently-approved Samsung Z400 - are expected to be among the first phones to support the new Direct Connect service.
Does anyone actually WANT DirectConnect/PTT?
It's most juts obnoxious when used by anyone other than emergency personnel. I don't know any regular folks who still uses it anymore.
yacoub said:
I don't know any regular folks who still uses it
ok yet I know hundreds!
yacoub said:
It's most juts obnoxious when used by anyone other than emergency personnel. I don't know any regular folks who still uses it anymore.
Businesses.
Retail Stores.
Construction.
Btw, why is it ob...
(continues)
I didn't think the Pro series was still coming
With Sanyo's handset division recently being sold to Kyocera, I am surprised that they are still launching phones. I have heard about the pro series for a long time now but, didn't think it would still be released since the division had been sold. Right now, our stores haven't been able to order several of Sanyo's handsets and have been told that we won't ever receive some of these phones (7050, Katana II pink,) because Sanyo is not making any more of these handsets. Just found this announcement kind of odd.
This one will still be a true Sanyo, it has been in the pipe line for a very long time.
yeah, word up. i thought sanyo was done for. i was sad thinking about the s1 as the last sanyo phone. so i take it that this phone is going to be a hybrid sprint/nextel. good stuff.
It takes 18-24 months to develop a new phone and bring it to market. The Sanyo-Kyocera deal was practically just announced. It will be a while before they are integrated as a company and can even plan one unified lineup of phones, much less get them t...
(continues)
Welcome to the end of nextel!!!
The one last way to make sure that all current nextel customers leave is to make them can the moto phone they love and get sanyo craps! This i tell you will shut them down!
ummm there is Motorola Qchat phone on its way, and many more iden phones too, read up!
Sanyo is superior in quality. I've had both.
it's funny seeing people have so much ill will towards a company just because he cant afford the service.
You're an idiot! Sanyo and Motorola are EQUAL!! Have you ever USED a Sanyo handset? I had quite a few and they are excellent!!
Now that these are actually going to see the light of day, this makes of believe that the 800 and the Sidekick clone 900 could be real
will this be a power vision phone?

it looks like a rugged katana II.
Old News
We've known about this phone for months!
yes, but fcc details usually hint at a near release, usually within a month
sprint or qwest
have you seen sanyo phones on any other network? it's most likely headed for sprint, but qwest could get it first. Nuff said.
This Pro series phone is EVDO RevA for the HSPTT. Quest doesnt have a EVDO revA system yet so for Sprint. And if your a member of sprintusers.com you can get a look at the Pro series on that site.