Samsung Slider Arrives at Sprint
Article Comments 10
Feb 17, 2008, 1:00 PM by Eric M. Zeman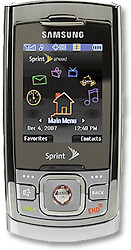 The Samsung M520 recently became available for sale on the Sprint web site. This Power Vision phone is an update to the M510 and is the first EV-DO slider from Sprint. It has a music player, microSD slot for storage up to 4GB, a 1.3 megapixel camera, and the ability to multi-task between applications. It also includes GPS, stereo Bluetooth and access to Sirius satellite radio. It will cost $50 after rebates with new two-year contract.
So close to buying
I work for Sprint and I thought I'd buy the next sliding phone we got. This thing is pretty nice and for a phone w/ all its features thats brand new & slides its well worth the $ (its relatively cheap). However I just cant get away from my full QWERTY keypad; I just bought the Ace.
I happen to agree with you, not everyone wants or needs a $125 phone. If I was with Sprint, they'd be pretty nice for my daughters.

I have a love hate relationship with Sprint, I'm not a big CDMA fan, but I do use them for my broadband on my noteb...
(continues)
Same old same old, or not?
It's like we are getting the same phones, but in different forms. I did notice the slider, and this is Sprint 2 second slider that they currently have. But do you guys think it would be a good phone? I also noticed the fact that the brought the Samsung A900 and the Katana 1 back and $150.00 amd then if you sign a new two year contract.. well they are free. And wasn't the green LG Rumor comming out today?
LG Rumor comes on in March - And this is basic cosmetic upgrade to the M510 - The internal programming is the same as the M510 as it is in the M520
Don't forget that POS LG slider that was really a bad design and didn't last long on the market. Now, this. Sprint, how about doing what AT&T does. Release the SAME phone but different colors? Your Purple/Green or whatever color YOU decided (not the e...
(continues)
This phone looks pretty solid, don't compare it to a Rumor (which isn't a bad phone after the latest update), its a much different phone.
Very good design, appears well built, only time will tell if there's bugs though.