Sony Ericsson Introduces Xperia
Article Comments 21
Feb 10, 2008, 1:54 PM by Eric M. Zeman
updated Feb 10, 2008, 6:50 PM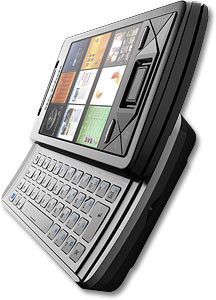 Today Sony Ericsson unveiled a new Windows Mobile smartphone called the Xperia X1. First in a line of Experia devices, X1 is a quad-band GSM/EDGE phone and has quad-band UMTS/HSDPA/HSUPA 850/1700/1900/2100 MHz radios, meaning it can work with both AT&T and T-Mobile's 3G networks. The X1 features a 3-inch WVGA touchscreen with a slide-out QWERTY keyboard. It supports input via touch screen, d-pad, and an "optical joystick". A unique "panels" interface allows up to 100 different screen states to be saved, with nine instantly available from a shortcut menu. It also has a 3.2 megapixel camera with flash and auto-focus. It uses Windows Media Player and supports FM radio and stereo Bluetooth. It also has aGPS and Wi-Fi. It will be available in select markets in the second half of 2008.
Hurray..
We will be able to use this phone to only roam off T-Mobile's 3G...
we all know T-Mobile isn't going to actually carry Sony products.
what's the difference? Just put in your t-mobile SIM card, its the same network... its only called roaming when you're roaming on someone else's network, not when you are using your own. The only thing that will change if T-Mobile carries it is the pr...
(continues)
T-Mobile's 3G
Is T-Mobile about to come out with their 3G, and with a Big Bang?
a promise of SE to T-Mobile/AWS
we all suffered enough for "lies"
finally, X1 has AWS support
no matter it's X1i or X1a, both have AWS band
I called this back on January 29th that T-Mobile had Sony phones coming in the 2nd half of the year. I'm glad that there is a picture now to go with the rumor I heard.
Made by HTC
The panels UI is by SOny Ericsson, but the rest of the phone is made by HTC.
Check it out: http://www.engadgetmobile.com/2008/02/10/no-w onder-sony-ericssons-xperia-x1-is-so-good-htc -makes-it/

Explains why it looks so good. I have never wanted a SE phone until today.
Why do people get excited about HTC devices? This company's track record is terrible- It's usually some half arsed execution that promises to be fixed with some future firmware update, or in some cases, whenever their next model comes out (see the rec...
(continues)
There Is A God!!
Finally Sony delivers me the perfect PDA! I could do without the WM, but it's Sony Ericsson non the less. I'll buy it!! 😁 😁
I think we are going to need to use our home equity for this purchase.
I can't believe
Sony wasted this design on Windows Mobile. Everything else does is proprietary. This would have been a good time to exercise that particularly annoying part of themselves.

Or maybe use something like their tried and true UIQ or Android, if they want to be different.

Stupid pigs.
Ok...Anyway... Damn, thats a nice phone I may have to consider switching from my Q9c for this baby. 🤤
I think they used windows mobile because it has a lot of things built into it that they could just build on top of (example being the HTC touch). I think they just are using windows to give the phone a more full rounded functionality and maybe even b...
(continues)
I can't believe they got Resolution: 800 X 480 pixels on a 3" screen on a phone. Is this a first? 😲
What a waste of an awesome looking device! To be honest the only reason that I didn't buy the P1 is that Sony could care less about the US market. No GSM 850, No Edge, and No US 3G. Good riddens SE, I'm tired of WinMo devices and their bugs. Hello 3G ...
(continues)