Nokia Adds to Nseries
Article Comments 3
Feb 11, 2008, 4:15 AM by Eric M. Zeman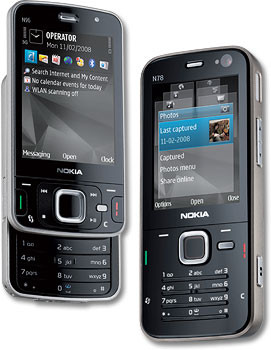 Today at Mobile World Congress Nokia unveiled its flagship Nseries phones for 2008. The N96 and the N78 are both quad-band GSM/EDGE phones with QVGA displays, Wi-Fi, GPS and support for the N-Gage platform. They both have stereo Bluetooth 2.0+EDR and microSD slots that store up to 8GB. They run S60 3rd Edition with Feature Pack 2. Both have 3.5mm headset connectors.
N96:This update to the N95 adds features and bears a striking resemblance to the N81. The navigation cluster and numeric keypad are nearly identical, though the N96 has a flat front surface. The multimedia keys around the D-pad disappear when not in use, and the four function keys on the dual-slide ledge change from media to gaming. The N96 brings in DVB-H mobile TV and has a 2.8-inch screen, 5 megapixel camera with auto-focus and Carl Zeiss lens. It has 16GB of standard memory, combined with the microSD slot for a total of up to 24GB. It supports European 3G networks. It will cost 550 Euros (about $800) and goes on sale in the third quarter.
N78: The is a bar-style phone that is similar to the N73. It adopts the new design language and one version will have 850/1900 HSDPA, supporting 3G networks in North America. It has a 3.2 megapixel camera with Carl Zeiss lens. It has a morphing keypad: the number keys disappear when the phone is in camera mode. Lastly, it has both an FM radio and FM transmitter. It will cost 350 Euros (about $500) and goes on sale in the second quarter.
No US Love on the N96?
We can get first release on a European designated old device 😕 but, can't even get the promise of a US 3G new device 😡 . Way to go once again Nokia!! Hello 3G iphone.
At least the N78 does. Thats more than can be said for SE. I will check out the N78 for sure when it is released.
can't blame nokia.

when you go to europe... motorola and asian phone don't get much love.