Motorola M990 Car Phone Spotted on FCC Site
Article Comments 4
Feb 6, 2008, 12:02 PM by Eric M. Zeman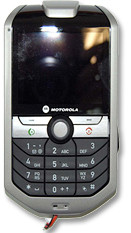 Documents seen on the FCC site provide a wealth of information about the Motorola M990, a car-phone that follows the format of the M800 and M900. It appears like almost any modern cell phone, but is designed specifically for use in cars as a communication and navigation device. Rather than holding it as a normal phone, it sits in a holder and works as a handsfree system. It has a jog dial in the center of the navigation cluster so users can access the phone's different services. The M990 has GSM/EDGE 850/1800/1900 radios, as well as Bluetooth 2.0, and full GPS. It also has a memory card slot that supports cards up to 2GB for storage. It holds its own SIM card, and can support up to three different user profiles. Because this device is meant to remain in cars, it likely won't be sold by any major carriers.
The Motorola M990
Then which company is going to carry it
I would like to get one for my car.
so who then?
🤨 so if it wont be sold by any major carriers, who can we buy it from and who can we get the service from? well surely motorola is not coming up with new cellphone designs but they sure are coming up with new ideas. i, as a person who talks while driving, will enjoy this type of technology in my car. 😁 😁
It will most likely be a dealer (auto) option that will be a dealer install