Nokia Reveals 3G 3120 Classic
Article Comments 14
Feb 5, 2008, 11:14 AM by Eric M. Zeman
updated Mar 28, 2008, 12:55 AM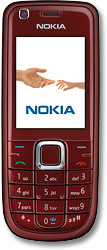 Today Nokia announced the 3120 Classic, a bar-style phone that has quad-band GSM/EDGE and dual-band 850/1900 WCDMA 3G radios. It will come with three different 3G radio configurations, including the North American version, as well as versions for Europe and Australia/South America. The 3120 is a small phone that uses the Series 40 platform, and has a 2 Megapixel camera and a user-facing VGA camera for video calls. It also carries an FM radio, MP3 player, microSD slot for up to 4GB of additional storage and a 2.5mm headset jack. The 3120 Classic also contains Bluetooth 2.0 and comes preloaded with the Opera Mini browser. No carriers have agreed to carry this phone, but it is compatible with AT&T's 3G network. It will be available in three different colors in the second quarter for 150 Euros or $222.
Again, no love for the U.S.!
👿
But it will still be available here through resellers and becasue of the beauty of GSM you will be able to use it.

Do NOT FEAR the unbranded unlocked phones. Especially if you are not in a 3G market. I am ok with edge even though 3G is available.
what are you talking about? it says there will be a north american version with W-CDMA 850/1900. to me, that seems like love for the us. 😕
What a cool little phone...
... for the technically challenged. Or, as a second phone for traveling abroad. The inclusion of WCDMA 2100 would have made it perfect (for roaming in Japan and South Korea).