Review: Sidekick LX 2009
Form Basics Extras Wrap Up Comments 4
Is It Your Type? Body The Three S's
May 12, 2009, 8:03 PM by Eric M. Zeman @zeman_e
Sharp brings a wealth of improvements to the latest Sidekick in the LX 2009. Messaging and the display dazzle, but some features fizzle.
AD article continues below...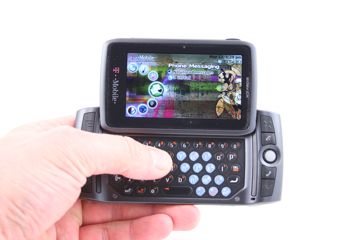 For the Sidekick crowd, this probably isn't a question you need to answer. The real question is more apt to be, is the LX worth upgrading to from your current Sidekick. Beyond the Sidekick faithful, the new LX offers some features that previous Sidekicks didn't that are likely to attract new users. Could you become a Sidekick convert? Let's find out.
the predecessor
"It is slightly thinner than its most recent predecessor, the Sidekick ID"

the Sidekick ID was the simplified version of the Sidekick 3. There has been three other Sidekicks launched since then, being the Sidekick Slide, Sidekick LX 2007, and the Sidekick 2008.

The predecessor would then be the Sidekick Lx 2007 being in the same Sidekick line, not the Sidekick ID.
Wow, yeah. The Sidekick LX 2008 is the one being replaced.
what bout the GPS?
What GPS comes Pre loaded or do you have to download from the sidekick Apps catalog?
the new sidekick LX 2009 comes with free aplication of Windows Live Search, which you can download along with the myspace, facebook and twitter apps. Windows live search app is already available for FREE to previous sidekick devices through the downlo...
(continues)