Sony Ericsson Adds Two Radio-Phones to Lineup
Article Comments 5
Jan 24, 2008, 9:02 AM by Eric M. Zeman
updated Jan 24, 2008, 9:42 AM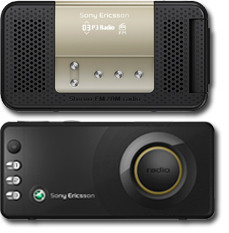 Sony Ericsson also announced two more phones today that feature AM/FM radios as the key component. The R300 Radio and R306 Radio are both tri-band phones, and each will come in 900/1800/1900 and 850/1800/1900 GSM/GPRS radio configurations. They both have dedicated radio speakers, preset channel buttons, 3D sound enhancement with volume boost, TrackID software and Bluetooth. The R306 is a clamshell with a 1.3 Megapixel camera that also records video. It will be available in the third quarter. The R300 is a bar-style phone and downgrades to a VGA camera and will be available in the second quarter of 2008.
Great for sports fans
not many phones have AM receivers, but every1 wants to listen to the game on the go.
give a little take a little..
add nice radio interface feature, & give us a crappy vga camera 😕
should have just made one completely without a camera, and left the other with the 1.3, but a 2.0mp would be better.
2 mega pixel camera please
☹️ ☹️ ☹️