Review: LG Xenon
Form Basics Extras Video Wrap Up Comments 72
Is It Your Type? Body The Three S's Touch
Apr 28, 2009, 12:14 AM by By Eric M. Zeman @zeman_e
The Xenon is LG's latest attempt to merge touch phone on the outside with QWERTY messaging phone on the inside. Does the result taste as good as it sounds?
AD article continues below...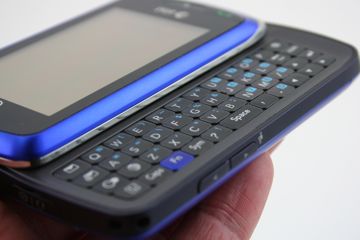 AT&T adds the LG Xenon to its roster of inexpensive messaging devices. The Xenon has both a touch screen and a full QWERTY keyboard. This device segment is quickly getting crowded. Is there anything that makes the Xenon stand apart from the gaggle of good touch screen texters?
My favorite phone to date
Add Voice commands too. Speaker independent makes dailing while driving a breeze. On Screen placeable widgets for the main home screen put notes, calendar, media player and world clocks all clost at hand.

Options are a persons best friend, redundant keys and buttons help you find the fastest route to something. Yes you do need to get used to the task manager button (bottom center) but for flexible ppl its not that mind bending.

Music through stereo bluetooth could be stronger. I use an a2dp fm transmitter in my car.

Also buried in the phone is an RSS reader under the web pages icon in multimedia. What a pleasant suprise, you can adjust how often it updates and a green icon appears when it updates at the top of the screen.

I love...
(continues)
"Error: NO PAGES"
Must be a pretty crummy phone, Rich