E-Ten Announces the Glofiish X650
Article Comments 5
Jan 10, 2008, 3:25 PM by Eric M. Zeman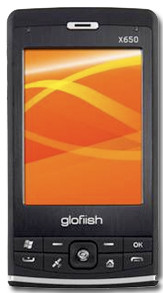 Today Taiwanese manufacturer E-Ten officially introduced the Glofiish X650, a Windows Mobile smartphone that has GSM/EDGE, Wi-Fi, Bluetooth and GPS connectivity. It has a VGA display, a 2 Megapixel autofocus camera, FM tuner and FM transmitter. E-Ten said the X650 will be available in two or three weeks, and it will be offered in black and purple.
No Carrier announced?
Are they trying to market this as a general GSM handset with no specific carrier in mind available only from them and not from the carrier? Does that happen often?
Look for it available with AT&T in the near future under a different name. It will retail for $69 w/ 2 yr and data package
VGA, but what else?
Nice phone, only outstanding feature, and I admit its a damned good idea is the vga screen, otherwise its nothing that HTC doesn't do better.