First Sprint Xohm WiMax Device Unveiled
Article Comments 9
Jan 7, 2008, 4:06 PM by Eric M. Zeman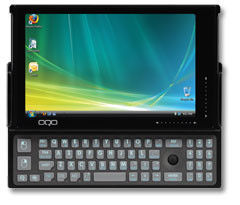 Today OQO announced a new version of its model 02 ultra mobile personal computer that is compatible with Sprint's forthcoming Xohm WiMax network. This model 02 runs the full version of Windows Vista and has an embedded 802.16e WiMax module for mobile broadband access. This is the first known device that will work with Sprint's WiMax service, but OQO would not say when the WiMax version of the model 02 will be available. Sprint has only launched limited trials of its WiMax network, and is expecting to launch its first two formal trial cities this later quarter.
cool!
looks kinda hard to put up 2 ur ear tho.. naah bad jk 🙄
I believe it may be a data-only device..........
Its about time....
Who's with me? Finally some resualts! 😉
yea it is. they were getting 2-4 megabits per second thats sweet.
Im with ya even though i dont use the web on my phone. that device looks really nice!!!!!!Sprint to the top in due time hopefully?!!!!
That was Quick!!
Wonder how long this has been in the works because this was quick, I wonder when they will be available.
Oh Yeah!
This is like one of those Dell/Sony Vaio embedded broadband cards 👀