New LG Phones Spotted at CES Booth
Article Comments 8
Jan 7, 2008, 3:47 PM by Eric M. Zeman
updated Jul 28, 2019, 6:11 PM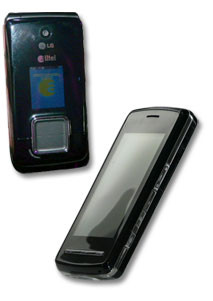 Two unannounced phones were seen at the LG booth today during CES.
AX565: This music-centric clamshell had Alltel branding. The mid-range phone offers touch pad music controls on the exterior for interacting with your music library. It also has an FM transmitter, stereo Bluetooth, a 1.3 Megapixel camera and its microSD slot supports cards up to 4GB. No word on pricing or availability.
Vu: This is a generic version of the Prada phone and is expected for AT&T later this year. No specs or other details were provided.
source: LG
Vu
Is it touchscreen only?