Verizon Wireless Adds HTC SMT5800 to Smartphone Stable
Article Comments 4
Jan 7, 2008, 11:20 AM by Eric M. Zeman
updated Jan 7, 2008, 11:50 AM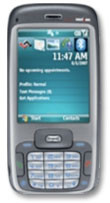 Today Verizon announced that the SMT5800 is now available online and will be in stores beginning on January 21. The SMT5800 uses Windows Mobile 6 Standard and it supported with CDMA-EVDO data. It has a 2 Megapixel camera, stereo Bluetooth, a microSD slot and features a sideways sliding clamshell design that reveals a full QWERTY keyboard. It will cost $299 after $50 rebate and new two-year agreement. Some customers may qualify for an additional $100 credit. The SMT5800 has been available from other carriers, such as Qwest, for several months.
Verizon Wireless »
Phone Scoop »
too may phones
Ok what I don't get is how can Verizon have so many phones that do the same thing? Like if I walked into a store you cant tell me that I would understand the differences from The:

Motorola Q
Blackberry 8830
Blackberry Pearl
Palm Treo 755p
HTC Mogul
LG Voyager
Samsung i760
Moto Q9m
Blackberry 8703
Plam Treo 700p
Samsung i830
Plam Treo 700w
Blackberry 7130

Ok adding one more Data phone will do what to the line up?
If you walked into a store and they still had the original Q, the Blackberry 8703, the 7130, and the Treo 700p and w (as opposed to the wx), then their sales staff didn't do a very good job moving out the old inventory. And it's more of the sales ass...
(continues)