Sony Ericsson Shows Off Three New Phones At CES
Article Comments 15
Jan 6, 2008, 8:15 PM by Eric M. Zeman
updated Jan 7, 2008, 7:09 PM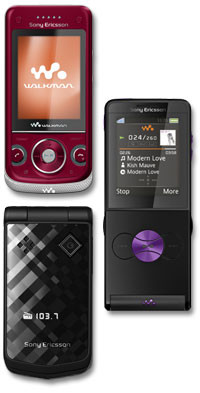 Today Sony Ericsson revealed three new Walkman phones as well as a new flip phone. They will be available in the second quarter of 2008.
W760: This Walkman phone is a slider that comes with quad-band GSM/EDGE as well as tri-band 850/1900/2100 HSDPA radios for worldwide 3G roaming. It has SensMe, which creates playlists depending on your mood, GPS with Wayfinder navigation and preloaded Google Maps, Track ID, an FM radio, Shake Control, and comes boxed with a 1GB Memory Stick. It also has a 3.2 Megapixel camera and stereo Bluetooth.
W350: This mid-range Walkman flip has two tri-band configurations, one 850/1800/1900 and the other 900/1800/1900. It also comes with a 1.3 Megapixel camera, Track ID, and lets you control music when the phone is closed. It has an FM radio, stereo Bluetooth and comes bundled with a 512MB Memory Stick.
Z555: This clamshell comes in two different diamond-styled colors. It has a hidden OLED exterior display, a 1.3 Megapixel camera, FM radio, Gesture control and stereo Bluetooth.
Why no AWS 1700MHz support?
What is up with the OEMs not making phones to support AWS? You would think that since carriers like T-Mobile will be launching AWS 3G, SE would atleast show off new phones that are Quad-band 3G. Everything still can't be Tri-band 3G.
Could it be because TMobile hasnt sold a SE phone for a VERY long time? I would think so! And dude... Chill out. You will get your 1700MHz phones. They will likely be Moto, Samsung & Nokia...
Looks
awesome. Hope they hit stores soon.
Don't hold your breath ... with SE's track record, i expect 6 months ☹️