Samsung Showcase 2004
Intro CDMA Phones GSM Phones Comments 7
Samsung is the only major manufacturer to license all of the major smartphone platforms, including Windows Mobile, Palm OS, and Series 60. Samsung has been shipping Windows Mobile and Palm devices for some time, but the company has yet to actually ship a Series 60 device. Their first try, the SGH-D700, never saw the light of day. Their second try, the SGH-D710, was announced earlier this year, and is finally looking like it might be released soon.
The D710 is notable for having a sliding design, a megapixel camera of the CCD variety, and an excellent 262,000-color display. The camera can also record video, is aided by an LED flash, and has a macro switch for close-ups.
Above are photos from earlier this year of a pre-production D710 unit. Since then, the design has been tweaked slightly. A newer revision of the hardware is shown below:
The most obvious difference is that the sliding lens cover has been removed. That's a shame, but then again I do recall thinking that the lens cover felt cheap and flimsy on early units, so it might not be such a bad thing that it's gone. The color has also been tweaked - the darker part is now dark blue, instead of the brownish-gray on previous units. The design is otherwise similar.
The fact that the hardware is actively being tweaked and refined is an excellent sign that the D710 is still alive and on its way to market.
Nokia allows the Series 60 interface to be tweaked by licensees like Samsung, so they can differentiate their phones from other Series 60 phones. Below is a close-up of the home screen on the D710, which has been tweaked by Samsung.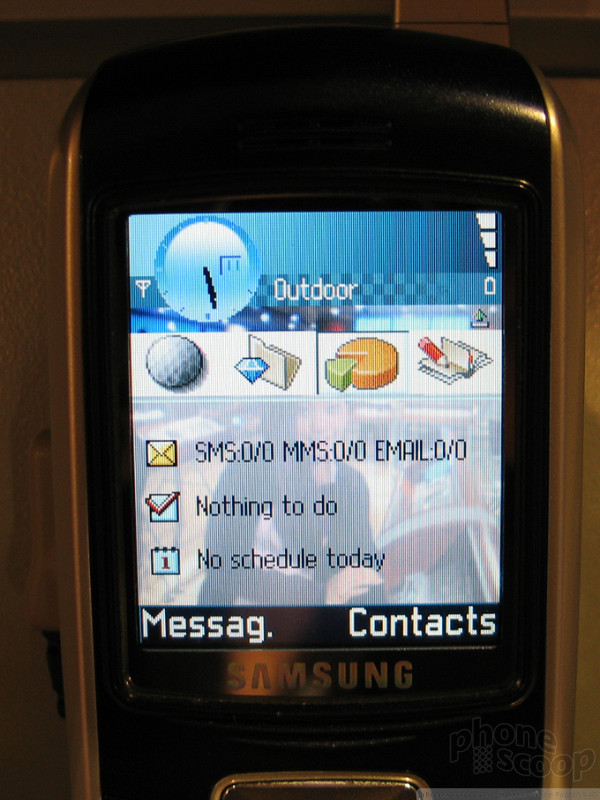 What's interesting is that this home-screen layout is almost identical to the standard home screen on Windows Mobile Smartphones. It has the same row of program icons across the top, and below that, a summary of current messages, to-do tasks, and calendar events.
The D710 is tri-band GSM, (900/1800/1900 MHz,) so it will work in the U.S., but don't expect it to be offered by any carriers here - it's targeted squarely at Europe, where Series 60 has a much stronger following.