Review: Motorola VA76r Tundra
Article Comments 7
Jan 27, 2009, 9:01 PM by Eric M. Zeman @phonescooper
Motorola offers up a rugged PTT phone for AT&T. The Tundra can take a serious beating and still get the job done. Check out Phone Scoop's full review and video tour.
AD article continues below...
Form
Is It Your Type?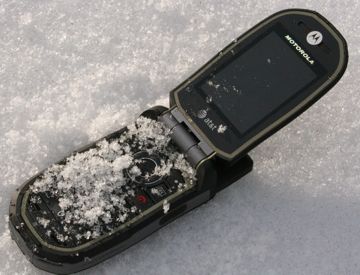 Let's face facts. You're probably not going to look at a phone such as the Motorola Tundra unless you have very specific needs. It is a rugged handset that can take a beating, has PTT capabilities and 3G data browsing speeds. Oh, that's you? Then read on, my friend, read on.
Body
The Tundra from Motorola (much like the pickup truck from Toyota) is one tough mother. Like many PTT-capable phones from Motorola, the Tundra is a man's phone. It is built to work hard — and not to look good while doing it.
It is chunky, blocky, heavy, and would probably be considered a lethal weapon were it to be tossed at someone (please don't do that). But this is all expected from such a phone. The exterior shell of the Tundra is bumpy, grippy and rubbery. This makes it easy to keep firmly in hand. Because it is so large and has a short, stubby antenna, I'd recommend against putting it in your pocket. That antenna could really cause some damage, and the sheer size of the Tundra makes in uncomfortable to carry in your pants. A phone such as this is clearly destined for a holster, or the cup holder in your truck.
The build quality is excellent. It is sealed against water intrusion, and all the hatches and covers fit firmly and tightly. On the left side of the phone you'll find the volume toggle up near the top of the Tundra. The rubber-covered buttons are large and nubby. They are easily found, even when wearing gloves. The walkie-talkie button below the volume toggle is not as obvious when you pass your thumb over it, but it is so huge that this hardly matters. Mash your thumb down just about anywhere on the left side of the phone, and you'll hit the walkie-talkie button.
A hatch covering the mini-USB port is located on the bottom of the phone. You're not opening this hatch with gloves on. It is a large hatch, and seals well against the mini-USB port to keep dirt and moisture from getting in there. You'll be using the port to charge the phone, as well as transport data to/from it. The right side of the phone holds only one button, and it is for the camera. Like those on the left side of the phone, it is covered in rubber and is obvious to your thumb when you rub up against the side of the phone.
On the top you have two smallish buttons for the speakerphone and PTT calls. These are nubby enough that you can find them with no problems.
If you're thinking all the buttons sound great so far, prepare for some disappointment. None (none!) of them has good travel and feedback. In fact, the walkie-talkie button is so mushy, it is nearly impossible to tell when you've pressed it. The only clue you get is that the phone beeps at you. If you're using this phone in a loud environment (such as a work site), I wouldn't be surprised if you have trouble figuring out when you've started a walkie-talkie session and when you haven't.
The hatch covering the battery is a bit difficult to peel off. The upside of this is that it doesn't pop off and go flying across the room if the phone is dropped. In fact, it, too, is sealed for protection against dirt and moisture, so it takes some effort to press back on correctly.
The hinge for the flip is about as solid a hinge as we've encountered. It is solid and feels very strong. Inside, the keypad is a mixed bag. All the keys are set inside a plastic frame that has tall edges. The frame includes rows that run side to side, so you have the 1, 2, 3, keys separated from the 4, 5, 6 keys by a plastic edge and so on. The control keys at the top are set too far into this plastic framework, making them difficult to find and press. The soft keys, the MediaNet key and the Cellular Video key, in particular, are affected by this issue. If you're wearing gloves, forget it; you won't find them. The number keys (thankfully!) are better. They are given more room, and even though each row of keys is one large button, each individual number has a distinct hump so you can feel them. I was able to use them with gloves easier than some of the other keys. The good news is, these keys have good travel and feedback. There is a clear indication of when you've pressed the buttons.
The Three S's
Screen
The Tundra has two displays. The external display is full color and even stands in as a viewfinder for the camera. It is small, though, perhaps an inch by an inch. It doesn't pack in a gazillion pixels, but it looks good enough. The icons and notifications are readable, though I thought the external display could have been a lot brighter. In direct sunlight, it was very difficult to read. Reading it outdoors wasn't easy. For a workhorse of a phone such as the Tundra, outside readability should be a priority.
The internal screen, in contrast, is excellent. It is very sharp, clear, and bright. I had no trouble reading it outdoors at all, even in bright sunlight. The icons and images all look smooth and clean, and colors look great.
Signal
I took the Tundra everywhere, and no matter where I went, it held onto 5 bars of 3G coverage. The external antenna does its job well in collecting AT&T's signal. It never dipped below 5 bars in my entire time with the phone, not once. I've never seen a phone do that. That said, calls seemed to take slightly longer to connect than on other AT&T phones I have on hand. I'm only talking a second or two, but it was enough to be noticeable. However, I didn't miss any calls due to signal issues, I didn't receive any phantom voicemails, and I was able to make voice and data calls wherever I took the Tundra. It even passed the NJ vault test with flying colors. Nothing challenged the Tundra's signal supremacy.
Sound
Phone calls with the Tundra sound cell phone-y. There's no other way to describe it. It was like making a cell phone call from 2001. You can definitely tell you're calling from a cell phone. I didn't hear any major interference or hissing, but every call I made had a distinct "digitized" sound to it. Despite the cell phone-y sound, I didn't have any trouble hearing callers in loud-ish environments, such as coffee shops. I'd imagine you'd have no problem hearing calls at a work site, even with noise from machinery in the background (unless we're talking a jackhammer). The ring tones are loud enough that you're going to hear the Tundra in most places. Similarly, the vibrate alert is nice and strong. If the Tundra is clipped to your belt, your entire hip is going to get quite a buzz with incoming phone calls.
Battery
I found the Tundra's battery life to be excellent. I only had to charge it once in the 10 days I've had it. I was able to make plenty of calls, test the walkie-talkie features, send text messages, browse the Internet, take pictures/video and tons more.
Basics
Menus
The Tundra's menu system doesn't differ all that much from that of other AT&T feature phones. From the home screen, the left soft key takes you to what AT&T calls a list of "options" that are really shortcuts to applications such as the camera, Bluetooth, the alarm clock and more. Calling it "options" - rather than "shortcuts", "favorites" or "apps" - is a misnomer.
The main menu can be configured into a grid, list or spinner view. I found the grid to be the easiest to use. You can also re-order the layout of the grid, which is always nice. Beyond this main menu, most other menus are simple numbered lists.
For the home screen, the four directions of the D-pad can be set as shortcuts to specific applications.
Overall, the UI is pretty basic and the menus don't drill down too deep.
Calls/Contacts
You're not going to find any fancy phone surprises here. If you want to see your recent calls, hit the green send button. Using the D-pad, you can step sideways to each of the tabs, which sorts your calls by dialed, answered, missed, and frequently called. Pressing the left soft key brings up options, such as calling the number or sending a text message, as well as access information about calls to/from that number.
As for the contacts application, the phone comes preloaded with seven different AT&T contacts. Luckily, you can create different categories and lists and tuck these away out of view. The options key is what you need to press to do much in the contacts department. From there, you can open an existing contact, create a new one, and so on. Several nice features let you select and delete multiple contacts at once, import contacts from the SIM card or file manager and easily filter your contacts based on category.
The information for each contact is broken up into tabs. One tab contains the mailing address, another is for choosing personalized ringtones and setting up their picture ID, etc.
PTT
Like all AT&T PTT phones, the Tundra uses technology supplied by Kodiak to make push-to-talk calls. Our experience with it was good. The phone needs to initialize the service first. You can create separate contacts for just PTT calls, though the system uses the same 10-digit phone number that you would use for the phone itself. There is no special number to use.
Calling a PTT contact is as simple as selecting them and then holding down the PTT button. The call goes through like a regular phone call. As soon as the other person opens their phone / accepts the call, it jumps to PTT mode and you have to use the PTT button to speak. We used it through the earpiece and the speakerphone. Our callers were crystal clear both ways. The speakerphone has plenty of power, and is clearly audible.
The delay in switching between callers was not bad. In our experence, it didn't feel quite as instantaneous as an iDEN phone's PTT service, but I am sure Kodiak's engineers would debate the point. In the end, it is fast enough that it's not going to get in the way of a conversation.
PTT calls can also be converted to cellular calls by the person who inititated the call. This even works with PTT conversations to multiple different lines.
Messaging
The Tundra offers SMS, MMS, IM and email applications.
Creating SMS/MMS messages is pretty straight-forward. The default text entry mode is triple-tap, but you can change it to Word Prediction, which works pretty well. Like T9, as you type, it tries to figure out the word you intend. The word will be underlined as you go. Pressing down on the D-pad will cycle through all the possible words available based on what you've already typed. Pressing the space key ends the word and inserts a space.
Use the left soft key if you want to insert a picture, video, sound clip, contact information, web address or text template. You can set subject headings, add CCs and BCCs, and request read and delivery reports.
POP3 mobile email is accessible via a Java-based client and the Tundra is preloaded with Yahoo, AOL, AIM, Windows, and a handful of others. Why it doesn't include GMail is beyond me, but Google's email is off the list. Once you choose an email client, just enter your username and password and away you go. Email in-boxes are easy to access and read, and the tabbed setup makes it easy to sort through your folders. You can also customize the settings for each email account.
IM works the same as on most phones. AIM, Windows Live Messenger and Yahoo IM are all preloaded. No ICQ. You can choose to have the Tundra remember or forget your password to protect your account.
Extras
Music
The Tundra comes with a music player, but it is clearly an afterthought. You have to use you an adapter if you want to listen through wired headphones, though you can choose to use stereo Bluetooth headphones.
The best way to get music onto the phone is to load it onto a microSD card first and then just put the card in the phone (under the battery cover). The Tundra took about 2 minutes to refresh the library with 8GB worth of music.
The menu of the music player let you sort playlists via artist, album, songs, genre and so on. Once you're in an album or play list, the Tundra sorts songs alphabetically rather than by track number. This is one of my biggest pet peeves.
The player interface itself is fine. You can also easily set the songs to repeat or shuffle, as well as quickly mute the player. Incoming calls will pause music, which resumes playback after the call us completed. You can also perform other tasks while listening to music, such as composing messages or browsing the Web.
You have to use the options settings in the main music menu if you want to alter the equalizer presets and make other adjustments. Setting any of your songs as the ringtone is a snap.
The player can be minimized so you can see the Tundra's main screen with a small version of the player sitting at the bottom of the screen.
Sound quality through stereo Bluetooth headphones was comparable to other A2DP-capable phones, but it did nothing to differentiate itself from the pack.
Camera
Camera
Press the camera button in the side of the Tundra and the camera launches in about two seconds. The camera interface has a circle in the lower left corner as we've seen on other Motorola phones. This little circle lets you cycle through some of the camera's basic controls, such as zoom, scene setting, styles, and tagging. Press up or down on the D-pad to select between the settings and press sideways on the D-pad to change whichever setting you've selected.
Use the left soft key to get to the full camera menu, which lets you switch to video mode, set a timer (5 or 10 seconds), multi-shot (4, 6, or 8 pix) and change other settings.
Up at the top of the screen, you can see which mode you're in (still or video), how many images you have left to store, the quality setting, and where images will be stored. It takes about 1.5 seconds to capture the image and show you the review screen. The video camera works exactly the same. In all, it's pretty easy.
As mentioned, the camera also operates when the Tundra is closed. You can press the camera button and it will launch with the external display serving as the viewfinder. This is useful for self portraits, since both the lens and viewfinder face you.
Gallery
The gallery, as accessed from the camera, is an interesting set up. You'll see the last image you shot fill up the screen, with a circle in the lower left-hand corner. The circle corresponds with D-pad actions. Press the D-Pad left or right to cycle through your gallery. Press up to rotate the image 90 degrees clockwise and press down to rotate the image counter clockwise. Neither of the soft keys does anything when viewing the images this way. All you can do is look.
If you want to interact with your pictures, you have to open up the gallery through the main menu. You have to go though the MyStuff folder, then the Find Media Folder, than the "My Pictures" folder. They don't make it easy to find, but it is there. Once open, you'll see a typical grid with your images. If you press the center of the D-pad, the image will open up with the same circular control pad appearing on the screen. Here, there is an options menu that lets you edit, print, zoom, pan, and otherwise interact with the photo.
Photos/Video
Photos
The Tundra carries a 2 megapixel camera that has fixed focus and no flash. Image quality is good, but not exceptional. Images are sharp for the most part, and colors are captured exactly as they are in real world. I did notice, from time to time, that there was a bit more noise than I would have liked in the images. As usual, indoor shots show more grain than those taken outdoors. Outdoor shots are typically sharper than those taken indoors, as well. Given the target audience for this phone, the camera and its quality is actually better than expected.
Video
Video shot with the Tundra is actually pretty good. It was much better than I thought it would be. Panning the Tundra around didn't cause it too much distress and motion looked pretty smooth. It reacted well to drastic changes in light, and can record MMS-optimized video or as much as your memory card will hold.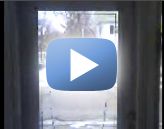 3GPP / MPEG-4 format (viewable with QuickTime)
File size: 583 KB
Browse/Customize
Browse
The Tundra has the Symphony browser on board. It can handle WAP and HTML sites. I like that there is a dedicated Web button on the phone to launch the browser. The browser loads in about 10 seconds, and takes you to AT&T's MEdia.NET home page. You can set your home page to be something else if you wish.
Browsing to other sites is simple via the options menu. I like the text box for entering URLs. It isn't complicated, nor does it require too many navigational clicks to enter the URL and go. Web sites can be viewed in their natural state, or set up for a single column view (recommended when visiting HTML sites). You can zoom in/out, open multiple pages, and also control some aspects of the browser's history and cache.
With AT&T's 3G network providing the connectivity, browsing was pretty fast. Google, for example, loaded in about 3 seconds. The WAP version of Phone Scoop took about 1 second to load, though the HTML version took more like 30 seconds.
Web sites look very good on the Tundra's main display.
Customize
The Tundra lets you use MP3s as ring tones, set your own wallpaper and themes, and customize contacts with ringtones and picture IDs. You can also re-arrange the main menu, and configure the D-pad shortcuts. That's about it.
Extras
Apps
The Tundra can browse and download games and applications from AT&T's library of content. It comes pre-loaded with several games, and software such as MobiTV and Cellular Video.
Bluetooth
I paired the Tundra with multiple different headsets, both mono and stereo. Sound quality through all of them was decent; nothing to complain about. I didn't hear too many weird noises or scratchiness. The quality of music through the stereo Bluetooth headset was OK, but as we said earlier, it performs no worse than other phones. I was also able to push files (pictures, videos) to other phones and PCs.
Clock
The external display on the Tundra serves well as a clock. It goes dark after a bit, but a simple press of any of the buttons and you'll see the time, date and status indicators. You can change the outside clock to an analog clock, but it isn't as easily read as the digital clock.
GPS
The Tundra has AT&T's Navigator service on board. This thing was dead accurate. I was able to pinpoint my location to within 10 feet multiple times. Directions worked well, and it was consistently able to locate me within about one minute (not bad for a GSM phone.)
Video
Here is a video that demonstrates just how tough the Motorola Tundra is. We kick it, stand on it, throw it, drive over it, freeze it, put it under a blow torch, smash it with a wrench, and put it under running water. Did it survive? You can watch the video here:
Or visit YouTube for more viewing and sharing options.
Wrap-Up
The Motorola Tundra serves a very particular purpose, and thus will likely only appeal to a subset of possible users. Its large size and heavy weight make it unappealing for most people to carry around all the time. But it is solid as all heck. We put it through its paces and beat it up pretty good and it survived everything we threw at it.
The camera / video camera software performs well, though the music player could be better. Web browsing is quick and straight-forward, and the Tundra's compatibility with Java apps means it can run all sorts of software. The GPS also worked very well.
In the end, it handles calling features with aplomb, and serves its primary directive well. It is definitely a solid candidate for the worker who needs a tough phone that can withstand harsh working conditions.
Excellent video!
Good job...you put it threw some pretty good tests, and I'm sure it could of handled even more! I wish verizon would release a cdma version.
that was the most entertaining 8 minutes of my life 😁
Not too sure
I'm not sure how it made out in your review. We had this model selling at Rogers in Canada since last October. So far, I'm getting lots of returns (repairable) and I got a few liquid damaged. Samsung has just came out a phone to compete with VA76r, the Rugby, that's a pretty solid phone!
kalok said:
I'm not sure how it made out in your review. We had this model selling at Rogers in Canada since last October. So far, I'm getting lots of returns (repairable) and I got a few liquid damaged. Samsung has just came out a
...
(continues)
HECK YA!!
I dont know whats better holding the phone under the water -OR- when he took his glove off he had a band-aid on his finger showing irony of the review and the reviewer!

(we dont have speakers on our CPU's at work so we watched it without sound)
Great review!
Great video! and really shows how durable the phone is! You should do this same test to evey phone!
You guys really should test every phone like this. This was a great video/review!