Nokia Announces Entry-Level 2135
Article Comments 13
Oct 15, 2007, 9:51 AM by (staff)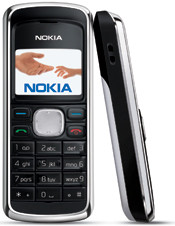 The 2135 is a voice-centric, bar-style phone bound for the North American market. It has a 1xRTT data radio, large keys, a simple design and a low price point. The hardware and user interface were designed by Nokia, but it was built by another company. Nokia declined to say which one. It has a speakerphone and will be available from CDMA carriers before the end of the year.
ha ha
This phone is already being tested for metro pcs
Yep. Good replacement for the 2125. Supports BREW ringtone downloads (full mp3 quality, I'm using SOaD Lonliest Day atm and its loud but not distorted).

Battery life is reminiscent as well. Upd to 7 days standy, sustainted 3 hours call with bars to...
(continues)
I would like to see this come to sprint.
but i do not see it happening as it is not bluetooth enabled.
You would probably not see it on Sprint major, boost unlimited maybe...
Genuine Nokia or a Pantech?
I thought Nokia exited the CDMA market at least for making the handsets themselves.
i thought the same thing.. I would welcome them back 2 cdma IF it is a real nokia and not a pantech. Cdma pantech is only good for skyy thats it. Nokia did make pretty good cdma handsets in my eyes.
I am not sure if said phone is a "real" Nokia, but Nokia supposedly left CDMA because of patent disputes with Qualcomm. But... Nokia hasn't hidden the fact that it is drooling all over WiMax and has partnered with Sprint in deploying it and s providin...
(continues)
This phone is manufactured by a company called Foxcom, or Foxconn... I didn't quite hear clearly when a certain Nokia rep told me about it, but apparently they have quietly built different phones for several manufacturers.
Its nto made by pantech. My nokia rep said "one of the other chinese makers" indicating either ZTE or Heiweigh(sp?).

My test 2135 on MPCS just says made in China, and I can't get any hits on the FCC ID...