iPhone 15 Series Goes All-In on USB-C and Dynamic Island
Article Comments 2
Sep 12, 2023, 2:19 PM by Rich Brome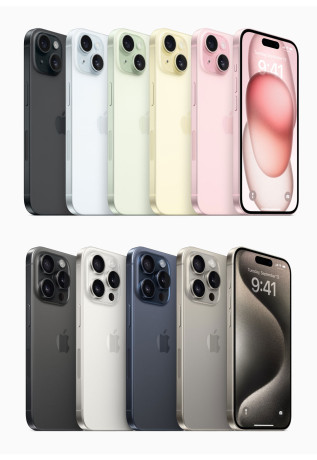 Apple has revealed the iPhone 15 series, which moves to a USB-C connector and brings several key features from last year's Pro models to the more-affordable standard models. These include the pill-shaped sensor cutout in the display that Apple calls Dynamic Island, a brighter display that can reach 2000 nits, a 48 megapixel main camera, and the A16 Bionic processor chip. The Pro models move to a titanium outer frame and a new A17 Pro chip that uses a cutting-edge 3nm manufacturing process. The A17 Pro has faster graphics with ray-tracing as well as a 2x faster Neural Engine for on-device machine learning. As with last year, both standard and Pro models come in two sizes: a 6.1-inch display and a 6.7-inch display. The larger models also include a larger battery. The larger iPhone 15 Pro Max also steps up from a 3x tele camera to a 5x. That camera features 3D sensor-shift OIS, a first in a phone. The titanium frame on the Pro models is stronger and lighter, granting them lighter weight and a slightly smaller physical size due to thinner bezels around the display. All models feature durable ceramic shield display glass and a frame with slightly rounded edges for a more comfortable feel in hand. The industry-standard USB-C connector replaces Apple's proprietary Lightning connector. On the iPhone 15 series, it supports charging, data, audio, and video (up to 4K). Apple is launching new wired earbuds and AirPods Pro for the new connector. On the Pro models, the connector supports USB 3 for data rates up to 10 Gbps. The Pro models can even record ProRes video directly to external storage. The 48 megapixel main cameras that are now standard across the lineup have a new default mode that captures both a 48 megapixel image and a higher-quality 12 megapixel image using pixing binning, then combines them to output a 24 megapixel photo with a better balance of quality and resolution. The standard models do not include a dedicated telephoto camera (like the Pros), but still offer 2x tele mode thanks to the higher-resolution main sensor. Video mode supports smooth zooming while filming. In standard Photo mode, the camera app now automatically detects a portrait situation (including of a pet) and captures a depth map. This lets you turn the photo into a portrait with bokeh (blurred background) after the fact, and even choose which part is in focus. Apple has also added a new nano-coating to the camera lenses to reduce lens flare in photos, a common complaint with recent iPhone models. A new, 2nd-generation UWB chip has longer range and enables a precision finding feature for other people you know with iPhones. A new "Voice Isolation" feature powered by machine learning eliminates background noise coming from your side while on a phone call. The emergency satellite features have been expanded to include roadside assistance from AAA; that service is now included with a AAA membership. The Pro models have a few other tweaks, such as a customizable action button replacing the silent switch, and rear glass that's easier to remove for better repairability. The Pro models can also capture 3D "Spacial Video" for Apple's new Vision Pro AR headset, plus log encoding for professional video capture and color grading. Finally, the Pro models support Wi-Fi 6E and Thread. The iPhone 15 starts at $799 while the larger Plus starts at $899, both with 128 GB of storage. The iPhone 15 Pro starts at $999 (128 GB) while the 15 Pro Max starts at $1199 (256 GB). The iPhone 15 and 15 Plus come in black or one of four pastel colors: blue, green, yellow, or pink. The Pro models come in black, white, blue or "natural titanium". Pre-orders start this Friday, with full availability a week later on Sept. 22.
Stop putting holes in the screen
"Dynamic Island" is the most bullshit marketing term for a very large hole punch in the screen, a trend I do not approve of! The screen is the most important single component of the phone, and the part you look at, and interact with, 100% of the time while using the phone, other than while on a call maybe. I do not agree with sacrificing a piece of the screen for the front-facing camera I rarely if ever use, especially if it could just be shoved up top, be put under the screen, or pop-up from the top even.
This might come as a shock to you, but they don't design phones around your own personal preferences. There's millions of other consumers to keep in mind.