AT&T Starts Selling the $300 Samsung Galaxy A23 5G
Article Comments 5
Aug 29, 2022, 11:10 AM by Rich Brome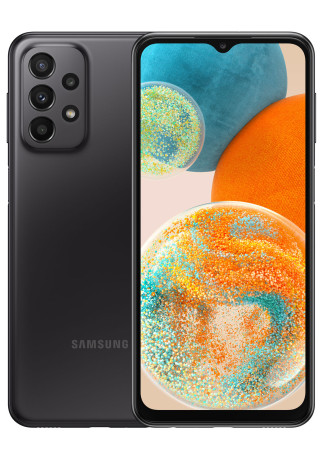 Another affordable 5G phone from Samsung has launched in the US. AT&T has started online sales of the Samsung Galaxy A23 5G for $300, in both postpaid and prepaid channels. The A23 5G is a small step up from the A13 5G, which AT&T sells for $250. For that extra $50, you get a sharper FHD+ display instead of HD+, and an 8 megapixel selfie camera instead of 5 megapixel. It also adds a 5-megapixel wide-angle camera on the back, and is powered by a Snapdragon 695 chip instead of a MediaTek Dimensity 700. Other features and specs are similar, including a large 5,000 mAh battery, NFC, expandable storage, fingerprint reader, and a headset jack. AT&T's web site currently shows delivery dates starting Sept. 7th.
A23 5G
Hopefully supports C Band for any of the carriers that decide to sell this phone and not just the Sub 6Ghz that is essentially a slightly beefed up version of 4G LTE.
C band is sub 6 but I hear ya
It does. That's standard on all new 5G phones for US carriers going forward. And you can see in our specs that it supports band 77.