Two New Snapdragon Chips Will Power 2022's High-end Phones
Article Comments 1
May 20, 2022, 7:36 AM by Rich Brome
updated May 23, 2022, 5:33 PM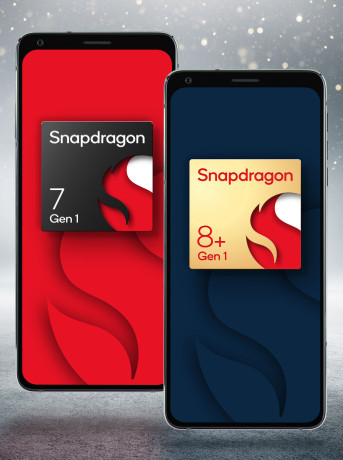 Qualcomm has taken the wraps off the Snapdragon 8+ Gen 1 and Snapdragon 7 Gen 1. The Snapdragon 8+ Gen 1 is, as its name implies, a turbo-charged version of the existing Snapdragon 8 Gen 1 flagship chip. The CPU has 10% faster performance and 30% better power efficiency. The GPU has 10% faster clock speeds and 30% better power efficiency. The AI engine has 20% better power efficiency. Overall, the chip is 15% more power-efficient. All other specs and features are identical to the 8 Gen 1. The Snapdragon 7 Gen 1 is the first 7-series chip to get Qualcomm's new single-digit naming scheme. It has 20% faster graphics rendering and 30% better AI performance compared to the Snapdragon 778G it replaces. It brings a number of premium features down to the 7 series for the first time, including 3GPP Release 16 5G (with the X62 modem, supporting speeds up to 4.4 Gbps), Qualcomm's Trust Management Engine, Android Ready SE, and up to 200 megapixel photo capture. Its Spectra triple ISP also supports 14-bit processing, 4K HDR video capture, triple active cameras, and 4K staggered HDR image sensors. It supports up to QHD+ display resolution, or 144 Hz refresh at FHD+ resolution. Its FastConnect 6900 subsystem supports Bluetooth 5.3, LE Audio, dual Bluetooth antennas, and Wi-Fi 6E at up to 3.6 Gbps. The CPU runs at up to 2.4 GHz and the chip is made with a 4nm manufacturing process. Both chips are expected to be included in new phones shipping in a just a few weeks, before the end of the second quarter.
source: Qualcomm
Snapdragon 7 Gen 1
It's really great to see the 700 series processors get such a boost.
Brings excellent performance to a more affordable price point and one needs not purchase a top of the line flagship to get it. Hopefully the 600 series will follow suit.