Samsung Galaxy A53 Coming to US in Two Weeks
Article Comments 6
Mar 17, 2022, 10:12 AM by Rich Brome
updated Mar 17, 2022, 10:49 AM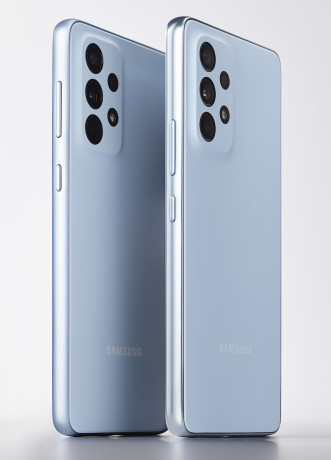 Samsung today fleshed out more of its 2022 lineup of affordable Galaxy A-series phones. The new Galaxy A73, A53, and A33 are nearly identical in design and features, differing only in a few display and camera specs. All three models have a full-HD+ Super AMOLED display with a thinner bezel. The A73 and A53 have 120 Hz display refresh, while the A33 is 90 Hz. The screen sizes are 6.7", 6.5", and 6.4", respectively. The A53 has a 64 megapixel main camera with OIS, 12 megapixel wide-angle camera, 5 megapixel macro camera, depth camera, and a 32 megapixel selfie camera. The A73 bumps the main camera up to 108 megapixel, while A33 steps down the resolution a bit with a 48 megapixel main camera, 8 megapixel wide camera, and 13 megapixel selfie camera. All three models have 5G, a large 5,000 mAh battery, 25-watt fast charging, expandable storage (up to 1 TB), and a fingerprint reader. The stereo speakers have been made louder and support Dolby Atmos. The body uses Corning Gorilla Glass 5 and provides IP67 water resistance. Samsung has brought some key camera features from its flagship phones to the A series for the first time, such as 12-frame night mode, auto frame rate for better low-light video, and enhanced portrait mode with better edge detection. The phones ship with Android 12 (Samsung One UI 4.1), and Samsung will offer an industry-leading four generations of major OS updates. Samsung calls the new design Ambient Edge; both the A33 and A53 (shown in photo) will be available in black, white, blue, and peach. Samsung also announced an A23 for markets outside the US that steps down the specs with 4G and an LCD display. Samsung isn't commenting on US launch details for the A73 and A33 just yet, but the Galaxy A53 will be available on March 31st at T-Mobile and Verizon, as well as AT&T and Samsung.com on April 1st. It will start at $450 and come with 6 GB RAM and 128 GB built-in storage. Pre-orders start today and are eligible to receive a pair of Galaxy Buds Live.
A33
Question: Will the A33 5g come with a headphone jack? Lack of one can be a deal breaker on a more budget conscious offer.
The A73 doesn't have a headphone jack, so I doubt the A33 will.
The A53 definitely does not. I'm pretty sure the others in this Ax3 series also not have one.