Android 13 Will Bring Improved Privacy, Personalization
Article Comments 3
Feb 10, 2022, 2:50 PM by Rich Brome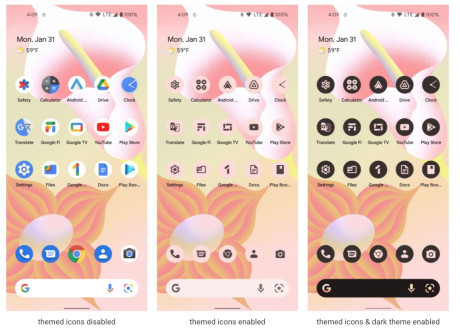 Google today released Android 13 Developer Preview 1, with several new features that consumers can expect to see in Android 13 in the second half of this year. First, a new "photo picker" will let the system sit between apps and the user's content library, enhancing privacy. Users will now be able to quickly choose just one or more photos to share with an app, instead of granting the app access to their whole photo library. The feature will work with photos and videos, and with both local and cloud content. Similarly, a new API option will let apps manage connections to nearby Wi-Fi networks without needing access to the device's full location info. Google will also enhance Material You with themed app icons. Apps will now have a simplified, monochrome icon available that can be used with themed icons customized with the user's preferred color scheme (shown). Finally, a new API will make it faster and easier to place an app's custom Quick Settings tile in the user's notification shade. Google plans at least one more developer preview, followed by several beta releases April – July. The final release of Android 13 is planned for some time after July.
Android 13 will bring improved privacy, personalization
is it secure than ios ??