Review: Sony Ericsson W760
Article Comments 12
Oct 20, 2008, 7:53 PM by Stewart Wolpin
For a music-focused phone, the Sony Ericsson W760 makes a surprising number of concessions. See what stands out on the plus side in our full review.
AD article continues below...
Form
Is It Your Type?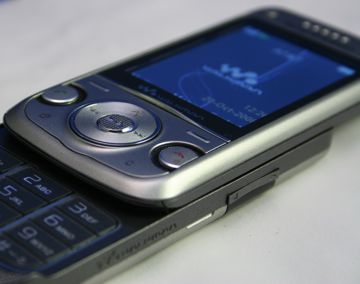 At a certain point, the new Sony Ericsson W760 3G Walkman music phone becomes more like a 24-hour diner menu than a useable gadget – there are simply too many options to wade through when all you want to do is have a cheeseburger. And some of these too-many options are just too gimmicky. On the other hand, the W760 is filled with some useful and fascinating (if sometimes useless and/or redundant) functions and features. The question is, do the gimmicks overwhelm the W760's usefulness?
Body
On it surface, the W760 is an unremarkable slider with the usual send/end buttons, a circular navigation control array out front, and two soft keys. It measures 4.1 x 1.9 x 0.6 inches and weighs 3.6 ounces, which makes the W760 one of the more compact sliders on the market.
Immediately above the screen, flanking the five-hole earpiece, are two tiny round-cornered square buttons. During the few weeks I've been playing with the W760, I completely ignored these unlabeled buttons, thinking they were design rivets, something to break up the flat surface at the top of the phone.
Turns out they are A-B gaming buttons. When not in gaming mode, pressing the left button brings up the last picture taken with the phone's 3.2 MP camera; pressing the right button brings up your entire photo gallery, delineated by date taken or imported.
Printed beneath the Send and End keys are two open spaces, the one under the End key imprinted with a "C" and under the Send key an icon that looks like two layered pieces of paper [not really sure what you mean here]. These are actually additional control buttons; the "C" is a clear/delete key, the other activates four sub menus, a calendar events listing, a running application list, a "My shortcuts" list and an Internet options list. There is no physical indication, such as a raised dot, that makes it obvious that these icons are designed to be pressed as buttons.
On the top edge of the phone is the Memory Stick Micro (MM2) slot; on the left edge is the two-pronged connector jack and a small "W" music application key; on the right is the slim volume control toggle, which on most phones is on the left. If you hold the phone to your right ear, you control the volume with your thumb.
Beneath the slide is, of course, the numerical keypad. The grey keys are set into a grey background with thin white backlighting that illuminates brightly in a dark room but is a bit difficult to make out in bright light. The keys themselves are flat and flush with the surface, which makes them nearly impossible to "dial" by feel. Because the keys are so flat and flush, there isn't much reassuring tactile bounce to them.
On the rear of the top slide piece is the 3.2 MP camera lens. This inside placement has both an advantage and a disadvantage. The advantage is the lens is protected and won't get scratched; the disadvantage is you have to open the phone to take a picture.
There is no button to take you directly to the camera function, although you can create a shortcut on the D-pad. There also is no 3.5mm or 2.5mm headphone jack. The W760 comes with a headset that connects via the proprietary jack, but it's a sorry state of affairs when a product dubbed a Walkman does not let you use your own headphones.
The 3 S's
Screen
At first glance, the W760's 240 x 320 pixel, 2.2-inch screen is so bright and its colors pop so vividly that at first I thought it was an OLED display. It's not – it's good ol' TFT LCD, just really well executed and easily readable inside or out, regardless of ambient light.
Most menus, apps and lists use bright colored fonts on a black background, a retro approach that makes everything on screen far more readable than the usual black-on-white approach.
Along the top are the usual five-bar signal strength meter, type of signal – H for HSDPA instead of 3G, message waiting, Bluetooth indicator and battery meter.
The W760 screen re-orients itself automatically when viewing photos, and the soft key controls re-orient with them.
Signal
HSDPA signal strength on the W760 is as hardy as any 3G phone I've used. Compared side-by-side with the iPhone, it held its signal a hair longer but recovered it far quicker when going through and coming out of a long tunnel. Call signal was just as hardy. Dropouts were acceptably infrequent and connections remained relatively solid through a variety of street walking, elevator riding and sedentary indoor situations.
Sound
Not exactly landline, but the W760 sounds less cellphone-y than most, probably a result of AT&T's revamped 3G service. Out on the street and in noisy environments voices, however, ambient noise competed – and often won – versus voice. The W760 mic seemed to pick up every sound within hearing distance.
W760's speakerphone was better, with full duplex capabilities that never seemed to waver regardless of how much I and co-callers shouted at and over each other. Since the earpiece speaker is facing up, unlike some phones that have a separate speaker on the rear of the phone, both speakers could clearly be heard without any physical barriers blocking the flow of sound. The speaker also produced plenty of volume for both conversation and music, even if it is mono.
You can use any song you've got loaded into the W760 as a ringtone, which is a good thing because using your own tunes as a ringtone is free and because the only ringtones included in our test phone were electronic synthesized tones that aren't loud enough to hear if the phone is anywhere but near your ear. But as long as we picked a loud song ("Who Are You?" by The Who seemed appropriate), there was enough volume to alert us to callers even if the phone was in our pocket. It didn't hurt that the phone vibrated like an electric massager.
Battery
Don't believe the rated times, for better or for worse. In my unscientific tests, I consistently got around four and a quarter hours of talk time, even though the rated talk time in 3G was up to four hours (the rated GSM talk time is 9 hours). It's very rare for a manufacturer to understate its rated talk time.
Unusually, the screen stays on, albeit at a lowered brightness level, during the entire length of a call. Even stranger, I could not find a way to change the screen and backlighting duration.
While it's not listed on the spec sheet, I was told by a Sony Ericsson spokesperson the W760 had a music play time of 20 hours. We did two tests on this and got only 13 hours of consecutive music play. While this is a lot less than most music phones, its of more academic interest than a deal breaker.
Standby time using HSDPA is rated at 350 hours, which translates to 5.83 days; by comparison, the iPhone has a rated standby time of 300 hours.
Basics
Menus
As noted, menus, as well as music and contact lists, use colored fonts on a deep black background. This design makes all items far more easily readable on a small cell screen than the traditional black on white.
In the Contact list, for instance, white contact names turns a bright orange as you scroll past them. When cruising through individual music tracks, a white two-line title/artist information gets brighter and an orange line bisects the two pieces of information.
The default main menu screen displays the 12 primary Menu icons in a familiar three-by-four grid pattern. You can change the grid into a flat rotating circle or one item icon displayed at a time.
None of the sub-menus use numbered lists so you always have to scroll down to the menu item of your choice.
Each direction of the circular navigation control can be programmed as a shortcut. The default settings are up/navigation menu, down/contacts, left/messaging (text and email), and right/create your own.
Oddly, I had a hard time actually setting this shortcut with an application, either using this shortcut or going through the Settings menu. I tried to set this shortcut with Camera, the Media menu and Internet, but each time got a pop-up window saying all were "Currently unavailable," with no other reason given or when and under what conditions to make that app available to create a shortcut. I then tried Calendar, Radio and Profiles (to access the Flight Mode setting), but got an odd "Cannot go further" pop-up message. I finally gave up.
Calls/Contacts
While there isn't a font size control, dialed numbers are displayed in a sans serif font about a quarter of an inch tall arrayed on a white background – on other words, really easy to see what numbers you hit.
As you tap out the number, corresponding contact names are displayed. You can simply choose the name to call without completing the number.
Instead of one long form to create a new contact, the W760 breaks up the data into five short tabs: name and number; email and Web address; picture, ringtone, message alert and voice command; business and home snail mail addresses; and, miscellaneous info and birthday.
As with all lists in the W760, contact names are in a clean white font on a black background. As you scroll the list, selected names change into a bright orange and the phone number or email address appears below the name. You can scroll right to cycle through which phone number or email address you need.
When viewing a contact, you get the first line of each bit of information (i.e. the first line of an address) and an "open" option to see the complete information. If you're looking for someone at the end of the alphabet, you can scroll up from the As at the top of the alphabetical list and the W760 rolls around to the Zs at the bottom of the list.
You can then press Send to call or the "select" key to open the contact.
Messaging
You get the full collection of messaging options: SMS, MMS, POP3 and IMAP email. Microsoft Exchange ActiveSync also is supported but no Instant Messaging is included.
The default text input is predictive text, even when you're inputting names (but not email addresses or passwords). If you're a multi-tapper, you'll have to disable a couple of predictive text settings, especially when you're inputting names. I tried to tap out my own last name with predictive text on, and it kept informing me after the first three letters of my last name that the "word" wasn't in the dictionary. I had to choose the "spell" option to insert the last three letters and add my name to the phone's dictionary.
Text messaging was straight forward; you are asked if it's okay to re-size an over-sized photo before attaching it to a message.
I experienced no trouble setting up both my AOL (POP3) and dot mac (IMAP) mail. The W760 asks if you want your email pushed from your account automatically, which worked perfectly. You can choose how many messages the phone displays up to 100, which is the default.
Extras
Music
Since this is a Walkman-branded phone, you'd expect the W760 to be an exemplary music phone – and you'd be right. But, there are some bizarre music control gimmicks that are both redundant and unnecessary.
First, according to Sony Ericsson, the W760 plays the following music formats: AAC, MP4, MP3, M4A, 3GPP, AMR-NB, AMR-WB, WAV, General MIDI 1, SP-MIDI, RealAudio 8, iMelody, XMF, WMA 8, 9 and Pro LBR.
I had some problem with older WMA files, however. I loaded the phone with a pile of non-DRM WMA, but the phone wouldn't play them. WMA 8 and 9 are supposed to be backward compatible, but not on the W760. The point is moot, however, if you use the included Sony Ericsson Media Manager software. I could not find any of the WMA files I had on my hard drive using this software, which uses only AAC when ripping CDs.
In this age of iPod and AAC, WMA files are probably passé anyway. If you have older WMA files you want to load on the W760, you may have to re-rip them, or you can use iTunes to convert old WMA files into AAC, then import the AAC files into Media Manager.
Pressing the "W" key on the left side of the phone activates the player and queues the tracks. Just hit "play" and you're grooving. The navigation array doubles as music controls, but you have additional control options – what Sony Ericsson calls Shake Control.
Here's how it works: Press the side Walkman W button and flick the phone to your right to skip a track. Hold the W button and flick the phone to the left to skip back a track. Hold the W button and shake the phone to re-shuffle the play sequence. Hold the W button and lift your arm up elbow to shoulder to raise the volume. Hold the W button while holding the phone arm up at the elbow then move your arm down to lower the volume.
Clever, but stupid and unnecessary. Why would you go through these goofy gyrations when pushing a single button on the navigation array or toggling the volume buttons is just so much easier. Why Sony Ericsson thought to include these ridiculous options…imagine me shrugging my shoulders.
Sony Ericsson should have saved all that gyroscope/sensor silliness and just included a far handier 3.5mm headphone jack.
The W760 parses your tracks into lists including (duh) tracks, artists, albums, genres and year. The W760 doesn't remember on which track you left off when you quit the music application, but the phone doesn't duplicate the shuffle sequence as many less sophisticated cellphone music players do.
You also get something called SensMe, which generates a playlist based on tempo and mood selected in an axis graph, similar to the Genius feature in iTunes. To use SensMe, however, you have "analyze" your tracks within the included Music Manager software before transferring the songs to the W760.
Bottom line: SensMe, like the Shake Control, is interesting but convoluted to use and ultimately of limited usefulness.
Camera
As noted, there is no direct camera access key. Since you have to drill through the menu to get to it, the W760 isn't appropriate if you like whipping out a camera to catch a quick candid.
Since the lens is behind the screen on the slide, you have to open the camera to use it. The viewfinder on the 1.75 inch-tall LCD is 1 inch tall. This means you're getting a widescreen view, such as it is, while counter-intuitively holding the phone vertically, and the portrait view holding the screen horizontally. There is no flash.
What's constricting the view are two rows of options – zoom and white balance controls at the top of the screen, a still-to-video toggle and a resolution indicator just below. All of these could have been smaller text indicators to create more room for the viewfinder.
Like many cameras, the digital zoom only operates when shooting VGA, not 1, 2 or 3 MP resolution. When taking VGA snaps, the zoom zooms in .1 increments up to 3.2x.
Even though the camera rounds off the resolution (1, 2, 3 MP), the specs say the camera shoots 3.2 MP at its top resolution. In either event, full-sized pictures are 2048 x 1536 pixels.
You also get a variety of shoot modes: normal, panorama, frames (16 overlays, such as one with a dinosaur's mouth open and a space to frame someone's head) and burst. Panorama lets you shoot three side-by-side shots of a piece of scenery (see example) and stitches them together. Make sure your first shot is at the right angle or you'll end up with some skewed scenery.
Its shutter release is near-instantaneous and processing was impressively quick, a total of three seconds or so from snap to stored picture, nearly as fast as a standalone digital camera.
The W760 also contains still and video editing functions, Photo Fix, sort of a quick contrast/color adjustment, and PhotoDJ and VideoDJ. PhotoFix worked better to correct lighting on indoor pictures, although I'm not sure the fix is better than the original (see playing cards pictures; the brighter one is the "fixed" version). Depending on the size and complexity of the picture, the PhotoFix could take up to 10 seconds.
PhotoDJ lets you correct for light balance, brightness/contrast, color balance, to rotate the photo or to add an effect such as tint or sepia or solarize, or to add a piece of clipart, a frame or even text. What I was surprised to find PhotoDJ couldn't do was crop.
Videos were not where the manual said they would be to use VideoDJ, which theoretically lets you trim the fat by editing the start and end points.
Photos/Video
While not labeled Cyber-shot, the 3.2 megapixel camera snaps much big, bright and colorful pictures. To my eye, though, the pictures lack the optical sharpness you get from a true digital camera. Image details seem a bit smudged, as if there's some digital interpolation at work.
For a cellphone camera with no flash and a simple plastic lens, pictures are impressive, as long as you're outdoors. Indoors, with no flash, focusing and blurring become problems. No matter how still I kept my hand or how brightly-lit the scene, indoor pictures were not as sharp as those snapped outdoors.
QVGA (320 x 240) videos are a vast improvement over the usual 3GP video on most cellphones. (See the squirrel video.)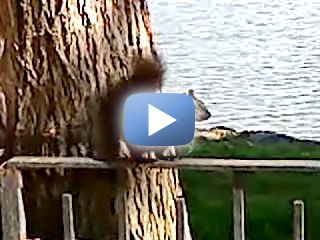 MPEG-4 format (viewable with QuickTime)
File size: 872 KB
Browse/Customize
Browse
Using AT&T's 3G HSDPA service in Manhattan, sites such as The New York Times, ESPN and CNN.com loaded lightning fast in around five to seven seconds, depending on the density of their graphics content. Subsequent in-site pages loaded even faster, in four seconds or less.
The W760, capable of downloads at 3.6 mbps, uses the Access NetFront WAP 2.0 browser which has HTML capabilities – plenty of graphics and pictures along with the usual text menus and lists. Once on a site, however, you can change the page view to text-only. Text can be zoomed down to 50 percent or up to 200 percent in 10 percent steps, which is a good thing because it's nearly impossible to read text on the W760's small screen (compared to the new wave of large touchscreen phones) at 100 percent without squinting.
Getting to and navigating around pages is…well, a bit weird. A floating arrow cursor transforms into a flashing text cursor when positioned in a text input box, or into a pointing finger when it's placed on top of an active Web link.
Positioning the cursor on a specific spot can sometimes be like that old handheld baseball game where you try to roll little ball bearings into little indents on the bases. The cursor doesn't seem to follow any logic as you move it via the navigation array. Sometimes it automatically drops on a nearby link – and sometimes it rolls right over it. It takes some sensitive key presses to get the cursor to go where you want it to.
This cursor kookiness continues when browsing around a page. The cursor stays in one spot as you scroll up and down the page, but you can move the cursor left and right, which you will have to to read the text under the cursor.
The W760 was not yet an official AT&T model, so we could not test download speeds of online content. However, based on its speedy Web surfing, there's no reason to believe that music and video content will take much longer than any other phone in its class.
Customize
As noted, you can choose any song you loaded into the phone as your ringtone; just remember to change your tone when you load new songs into the phone.
You also can choose any photo you've taken or loaded into the phone as the splash screen or the screen saver. A screen saver is kind of a waste, however, since the screen goes dark in an unadjustable 30 seconds. You cannot adjust how long the screen remains backlit.
You can change the main menu from a grid to a rotating carousel to a single icon. You can download additional "themes," which of course changes how menus and lists are displayed.
You cannot change the size of the varying menu or list fonts; the numbers you "dial" are already pretty big and visible.
Extras
Apps
Voice control in the W760 is stripped to its essential elements – no gimmicks here. You can record names for voice dialing and, for hands-free use, record "answer" and "busy" voice answer commands and the names of callers in your contact list so you know who's calling without fishing the phone out of your pocket. All of these functions require only your voice recorded, no special training. Voice dialing and the voice ID worked fine, but telling my Bluetooth earpiece to "answer" the call didn't work.
You also get a few A-GPS location-based services, primarily Google Maps, along with Wayfinder, a voice-prompted turn-by-turn navigation application, and Tracker, an athletic tool to time or measure distance running or exercise.
Google Maps, which can toggle between map and satellite view, wasn't as precise on the W760 as it is on some other phones. It often placed My Location way outside the 900 meter range indicated on-screen, more like 1500 meters. However, searches for nearby McDonald's or Staple's produced a list of locations, which include address, phone number and directions to and from, and other details such as store hours or menus, if available, in less than 10 seconds. Since the W760 doesn't have a touchscreen, you have to use menu choices and the keypad to zoom in and out on the map.
Bluetooth
Pairing with a variety of earpieces and stereo headphones, both 2.1 and 2.0, proved no problem for the W760, which is a 2.0 device.
Syncing with a PC was largely uneventful other than the usual inexplicable (to me, anyway) doesn't work/oh, wait, it works now trouble with entering PIN numbers into the phone and establishing the link. Once successfully paired, pictures flowed easily from phone to PC with only a couple of minor hiccups – a couple of photos just refused to go all the way through.
As with all data transfers, it's easier to use the included USB cable.
Clock
You can choose a large or small time display; the small clock display puts the time in bright orange on the bottom right of the home screen along with the date; large, the time is splayed across the screen but in a more muted orange with the date in the same small bright orange font right below.
In all other functions or apps, the time gets relocated to the top icon line, to the left of the battery meter.
There also are a couple of world clock applications included. Standby World displays a rotating series of clocks from three different cities of your choosing, against either a night starry sky or daylight, depending on the local conditions. World Clock 3D displays a globe; scrolling left and right highlights each successive longitudinal time zone or focuses in on a specific city.
Multimedia
The W760 I got had six games pre-loaded, including moldy oldies such as Asteroids and Breakout. None utilized the A-B buttons on the top of the phone. There's also MusicDJ, which lets you compose your own synth music.
Also included is an FM radio, which works only when the headphones, which must act as an antenna, are attached. Reception was strong, clean of static and consistent, even for somewhat distant stations. Surrounded by skyscrapers in mid-Manhattan, I was able to pull in stations from western New Jersey, a trick many car radios have trouble with.
At press time, our test model didn't support any of the AT&T Wireless subscription streaming video or audio content.
Sync
Included with the W760 is a USB cable and the Sony Ericsson PC Suite, required for syncing calendar, contacts, email accounts and other PIM settings. The disc also contains the aforementioned Media Manager for syncing multimedia content.
It is recommended that you use Media Manager for transferring and syncing music and photos. The problem is that Windows Media Player is – and I can't believe I, a dedicated user of iTunes, is saying this – just easier to use than Media Manager.
For instance, after importing tracks from iTunes, Media Manager refused to display a song list. All you get is a list of artist folders, which means you have to open and burrow through these folders and subsequent album folders to transfer individual tracks.
As soon as you move a track or tracks for transfer, the sync begins immediately. You can still move tracks during this sync, but it's hard to get a sense of how much space you have left to fill. What would help is Windows Media Player's shuffle auto fill option.
Once connected, both the PC Suite and the Media Manager recognize the phone after a few seconds and you can proceed with syncing. There are no clear instructions in the slim instruction manual for how you transfer varying elements; veteran Windows users should have no trouble, but it'll take some hit-and-miss guesswork (and maybe a little Windows-cursing frustration) for more casual users.
Wrap-up
The W760 would be far better served if Sony Ericsson had restrained it's engineering imagination and imbued the phone with fewer gimmicks. Anyone wanting a music phone and the freedom to use their own headphones might want to keep looking. Good music section plus no 3.5mm headphone jack is just one example of how the W760 giveth and taketh away. It's 3.2 MP camera takes above average photos, but the lack of fullscreen viewfinder and a external key to access the camera function are both annoying limitations. It's a speedy little devil for Web surfing, but the goofy cursor makes navigating more trouble than necessary. But the W760 does offer quick GPS location-based functions, its default white-on-black menus are more readable than the usual black-on-white design, its screen is among the brightest and clearest we've used, and it's definitely more pocket-friendly than the current spate of similarly-featured large touchscreen iPhone clones. The W760 is not a bad phone, but it includes too many compromises for a hearty recommendation.
Very disappointed
This review is disappointing.

The W760a is one the of best media phones (non-PDA) phones out for any carrier right now. It's incredibly sturdy, and these keys are NOT hard to find or press.

We have sold plenty of these phones out of our store and aside from the V9x, I would recommend it for everyone wanting something less than a PDA.

I don't understand this "Stephen Wolpin's" incessant use of the word "gimmick" in this review. Like seriously, wtf is a gimmick on this phone? It all performs fine.

For anyone not too sure, here is a definition of the word gimmick:

A device employed to cheat, deceive, or trick, especially a mechanism for the secret and dishonest control of gambling apparatus.

Now you effing tell me, what...
(continues)
Keypad
Anybody that has this phone-are you having any problems with the keys cracking/splitting like the W580's? Don't want to waste my money on a phone whose keypad is guaranteed to crack like the W580 did for me twice!!
I've had this phone since August and i haven't had any issues with the keypad cracking, I actually bought my wife the w580i in may and it hasn't had any keypad cracking issue either 😁 .

On another note... the screen on my w760i has malfunctioned ...
(continues)
Proprietary Headset jack?
I'm surprised at the comment that your unable to use your own headset of choice. It was my experience with several international versions of the Sony Ericsson Walkman phones that the headset disconnects with a 3.5mm adaptor at the microphone, thus allowing you the freedom to use your earphones of choice and secondly, maintaining the mic, in case of an incomming call.
...except that really only works if your headset has an unusually short cord, like the Sony ones, which I personally did not care for. To use your own, you need to bunch up the cord using a rubber band or twist-tie. Having a wad of cord hanging next t...
(continues)
Speakers look stereo
From my time on the w760 i believe the speakers are stereo, compared to the w580. There are 2 holes for them in the front, compared to the one on the w580. Since they're not spaced far apart, it doesn't particuarly sound distinctly stereo unless you compare i believe.
Who wrote this review???
They seriously need some prozac or something.
different menu options.
this phone is sold by at&t as the major distributor in the US. the menu options are different on the at&t branded phone. just thought i'd point that out....
Proprietary Headset jack?
I'm surprised at the comment that your unable to use your own headset of choice. It was my experience with several international versions of the Sony Ericsson Walkman phones that the headset disconnects with a 3.5mm adaptor at the microphone, thus allowing you the freedom to use your earphones of choice and secondly, maintaining the mic allowing you to handle incoming calls.