Hands On with the moto g power (2022)
Article Comments
Nov 17, 2021, 9:00 AM by Rich Brome
updated Nov 17, 2021, 10:46 AM
Updated: Clarified camera resolution of 2021 model.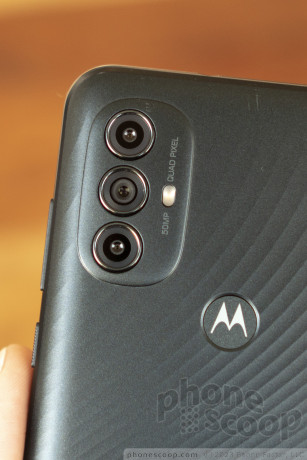 Less than a year after the last "moto g power", Motorola already has a replacement ready to go. This affordable phone gives people their #1 request: more battery life. That's why "power" refers to the huge 5,000 mAh battery, which is as good as it gets. Motorola claims up to three days of battery life. There are a couple of key upgrades compared to the previous model: 90 Hz screen refresh and a 50 megapixel main camera. But in this case, it's two steps forward and one step back. Read on to find out what we liked, what we didn't, and our first impressions handling it in person.
The moto g power is clearly a popular phone, because Motorola is eagerly pumping out a new model within less than a year, and it will be offered by most US carriers. This is a phone firmly in the "affordable" category. Motorola is charging $200 for it unlocked, but most of their recent phones have come in priced much lower when they reach US carrier shelves.
Because the last g power came out at the start of 2021 and is referred to as the "moto g power (2021)", Motorola differentiates this one by calling it the 2022 model.
Hardware
The beefy 5,000 mAh battery is the main selling point, but the 50 megapixel camera is another big draw at this price point. In normal operation, it produces photos that are a bit over 12 megapixel, similar to its predecessor. The 50-megapixel sensor uses pixel binning to combine four pixels into one (hence the "quad pixel" written next to the camera), a technique that produces better photos with less noise, especially in low light. The previous model technically had a 48-megapixel sensor, but it could only output 12-megapixel images, so we considered it a 12-megapixel camera. The new model can output the full 50 megapixels, which is a welcome option. There aren't many phones with this resolution at this price, although that's starting to change.
The other spec that stands out in this price range is 90 Hz screen refresh. That's a feature that only recently reached mid-range phones. If you care about screen refresh but are on a budget, this phone has little competition.
Unfortunately, Motorola had to make an unfortunate compromise to make that feature happen, or perhaps to reach the desired price (or both): compared to last year's model, the new moto g power has a slightly smaller display in a larger body. Most people want a large screen in a small phone, and this is a big step backward on that very key spec of screen-to-body size ratio. I thought the bezels looked annoyingly large when I first picked up the phone, and the specs confirm it.
As for the rest of the hardware, the new moto g power feels solid and well-made. With that said, it certainly doesn't feel "premium". The back feels quite plastic-y, although the matte finish and subtle wavy design feel nice. Motorola's new design language has a softly-rounded plastic camera area. It's somewhat distinct, I guess, but doesn't help the phone look any more premium.
What's more distinctive is the fingerprint reader embedded in the rear logo. I'm glad to see Motorola go back to that design, after experimenting a with a side-button design in the previous model. The lock button has a ridged texture that makes it easy to find by feel. The buttons work well, but are way too high up for my fingers to reach easily. The phone overall is larger than I personally would like, but it's a pretty standard size for phones these days. (I just wish they managed to cram a larger screen in there to make the size more worthwhile.)
Motorola calls the phone's color scheme "dark grove", and insists is has hints of green. In most light, it looks dark gray to me. Perhaps a hint of navy, but I don't see green myself. It's a perfectly fine color, it's just not green.
Besides the 50-megapixel main shooter, the other rear cameras are depth and macro, although the macro is only 2 megapixel. As far as I'm concerned, they exist mostly to increase the camera count.
Note that this is a 4G-only phone. That's fine at this specific moment and price, but next year's model will probably have 5G. If you're concerned about future-proofing your data speeds, it might be worth ponying up for an affordable 5G phone, which only cost a little more right now.
Software
Motorola is known for shipping a relatively "clean" version of Android, and that hasn't changed here. It ships with Android 11, but Motorola is promising an update to Android 12 for this model, plus two years of security updates. (Not great, but pretty standard at this price point.)
Motorola has also been hard at work on its camera app in recent years, and tried to bring as many camera features as they can to even the most affordable models. They seem to include every camera feature that the hardware is capable of supporting. That means an impressively full-featured camera app for this price point, including Dual Capture (using the front and back cameras simultaneously) for both photos and video. The pro (manual) mode supports long exposures up to 32 seconds, which is nice.
Summary
While the large size and chunky bezels are a turn-off for me personally, there are a few things that make the phone stand out in its price class. There are competing models with a 5,000 mAh battery, but it's still a great thing to have. The 50-megapixel camera and 90 Hz screen refresh, though, are things you won't find in most competing models. Add in Motorola's nice software and reputation for making solid hardware, and this is definitely an affordable model to consider.
No messages