Hands On with the T-Mobile SyncUp Kids Watch
Article Comments 1
Nov 8, 2021, 12:56 PM by Rich Brome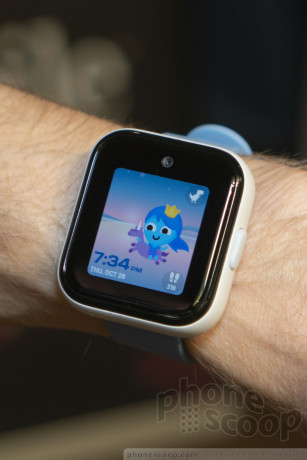 There have been a number of "smartwatches" for kids in recent years. They all have GPS and let you keep tabs on your kid's location, and offer some limited forms of communication. Beyond that, they can vary quite a bit in implementation and additional features. The new SyncUp Kids watch from T-Mobile is one of the more full-featured options available, packing in two-way calling and texting, and even video messaging thanks to a built-in camera. It has a full on-screen keyboard plus emoji. It includes a step tracker, task manager (so parents can set a to-list of chores, etc.), and some basic games. There's an SOS function and it comes with a real charging dock. It even includes some basic "smartwatch" functions like alarm, stopwatch, and timer (most kids watches do not). You can even customize it with standard 20mm watch straps, and it's rated IP68 for dust and water. T-Mobile is offering it for free if you make a two-year commitment, or $174 full-price. Continue to our hands-on for a quick tour of the actual hardware and unique software, and first impressions.
Just reading the specs and press release, I was impressed by the feature list and price. It's quite competitive. The IP68 rating means it can withstand the tortures that curious, adventurous kids apply to everything in their orbit. And it doesn't skimp on features and specs. The display is OLED, so it can be seen easily from any angle. The front-facing camera means you can ask your kid to check in with you via video message when they arrive safely at some destination, for example.
In person, I did find it to be a bit large, although that's normal in this category. (Making a smartwatch slim and light generally raises the cost quite a bit.) It doesn't feel "premium" in any way, although again that's standard for this type of device. You might not put up with something that feels this toy-like on your own wrist, but hopefully your kid doesn't care as much. (The target age range is 5–11.) With that said, it doesn't feel delicate like it will break.
There's just one button on the side, which keeps things simple. The touch screen is easy to use and responsive.
What I appreciate most is the included charging dock and customizable wrist straps. These are two "grown up" features normally only found on "grown up" smartwatches, but really should be standard for any "smart" watch. Many other kids watches have fussy charging cables. Being able to drop this one on a real dock with POGO pins is handy.
Better yet, being able to customize the watch with any standard 20mm watch strap should go a long way toward making the watch feel more personal. The two included bands are fine, too; they're comfortable and seem well-made.
While none of main "apps" are ground-breaking on their own, it does have a relatively large number, with a step counter, tasks, people/messaging, and a variety of "fun stuff", like games and a "Voice changer". It's full-featured.
Where it really sets itself apart is in the details, though. The messaging app is particularly robust, offering not just preset messages, but emoji and a full keyboard for tapping out custom messages. The whole QWERTY keyboard doesn't fit on the screen all at once; you swipe left and right to slide over to the letter you want to type. It may sound like a hassle, but your kid will probably pick it up quickly. You and/or your kid may find voice or video messages more convenient (and expressive), so it's really great that those are fully supported. Kids can also just take and save photos, of they like.
Unlike some other kids watches, there's no limit to how many contacts you can add to the watch. But of course the parent has full control, and communication is limited to known contacts for safety.
As for parental control, the companion app has the standard features. You can track location at any time, and set up geo-fencing to be actively alerted when your kid enters or leaves specific areas. You can also manage contacts and preset messages here.
Here, you can also configure School Mode, which keeps your kids from playing games or texting friends during school hours, or when they're supposed to be doing homework.
Overall, I was impressed with the SyncUp Kids Watch. It has a solid feature set for a decent price, making for a great value.
Who is the vendor/ODM?
Xplora?