iPhone 13 Upgrades Cameras, Displays
Article Comments 4
Sep 14, 2021, 2:18 PM by Rich Brome
updated Sep 15, 2021, 4:25 PM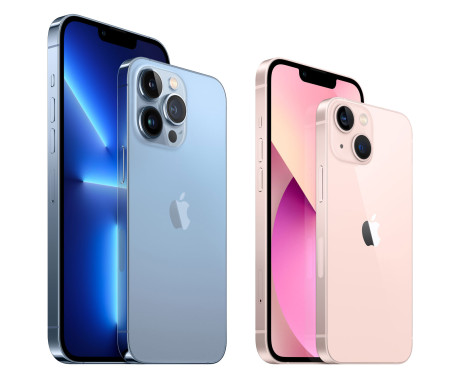 Apple today announced the iPhone 13 series. All models feature improved battery life, display, cameras, and processor. Although the model options and designs are similar to the iPhone 12 series, the notch for the TrueDepth camera system that powers Face ID is now 20% smaller, allowing more usable display area. The OLED displays on all models are now more efficient and offer greater peak brightness outdoors, while supporting HDR10 and Dolby Vision. The Pro models gain adaptive refresh of 10–120 Hz. The cameras have been updated to let in much more light for better performance, especially in low light. The main camera features a f/1.6 aperture on the standard models and f/1.5 on the Pro models. Apple has also brought sensor-shift OIS to the standard models, a feature previously exclusive to the Pro Max. On the Pro models, the telephoto camera has been bumped from 2x to 3x, for 6x total optical zoom range. The Pro models also feature an all-new ultra-wide camera with an unprecedented f/1.8 aperture as well as true auto-focus, enabling a new macro mode. All three cameras now support night mode. A new Cinematic Mode in the camera app can automatically change focus based on who is looking where in the scene, and lets the user adjust focus in videos after they have been shot. A new Photographic Styles feature offers greater control over Apple's advanced multi-frame image processing. The Pro models can also now shoot and edit Apple ProRes video at 4K (30 fps). The new A15 Bionic chip powers all four models. Apple claims it's 50% faster than the best competing chip. The A15 variant in the Pro models is slightly more powerful with five GPU cores instead of four. Improved efficiency and larger batteries give the iPhone 13 Mini and iPhone 13 Pro 1.5 hours more of battery life, while the iPhone 13 and iPhone 13 Pro Max gain 2.5 hours of battery life. iPhone 13 and 13 mini will be available in pink, blue, midnight, starlight, and (PRODUCT)RED in a new entry-level capacity of 128 GB (double last year's starting option), as well as 256 or 512 GB. The standard-size iPhone 13 starts at $799 while the mini starts at $699. iPhone 13 Pro and Pro Max will be available in graphite, gold, silver, and sierra blue in 128, 256, or 512 GB, plus a new 1 TB option. The iPhone 13 Pro starts at $999 while the Pro Max starts at $1,099. Customers will be able to pre-order all four iPhone 13 models this Friday, with full availability September 24th.
Yawn…..
Probably the most vanilla upgrade we've seen to date. Besides the cameras, no one will ever take advantage of the features except perhaps a professional photographer or cinematographer. It's all hype to get people excited about nothing. When they reintroduce the fingerprint sensor and a smaller notch to the display then maybe people will get excited. Until then this is just a big YAWN.
I think that many of us were hoping for the satellite connectivity for emergency situations. Unfortunately, that went away fast, and now we're left with a phone that'll take better pictures. For me, I use low HD for videos and pics so they can be easi...
(continues)
Good words mate!
Second that!
Agree. The notch is hideous, can't believe they've not gotten rid of it yet and the phone in general looks like a toy compared to the Z Fold 3.