Apple Announces iOS 15
Article Comments
Jun 7, 2021, 3:03 PM by Rich Brome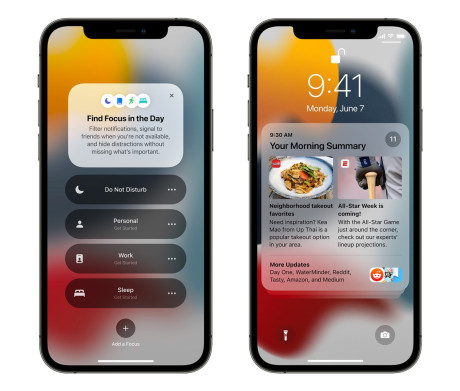 Apple today announced iOS 15, the next version of its core software that powers iPhones. Version 15 is not a major overhaul, but does add a long list of new features. An early beta version is available to developers starting today, with a more-polished public beta coming "next month". The final version will launch in the fall, likely alongside new iPhone models. New features include:
Revamped FaceTime with SharePlay: FaceTime will now support scheduled calls and web links for Android and Windows users to join calls. New features make it easier to share your screen or streaming media with everyone on a group call.
Live Text: System-wide recognition of text and objects within images.
Updated Wallet: Will support digital home keys, driver's licenses, corporate badges, hotel keys, and more.
Updated Maps: Adds AR mode for walking directions, 3D highway interchanges while driving, and greatly enhanced 3D views in select major cities.
Focus modes: The new Focus feature will let you create Work, Personal, Sleep, Do Not Disturb, and custom Focus modes. Each mode can have its own notification settings and filters, and even its own home screen with specific apps and widgets. iOS can intelligently suggest personalized settings for each Focus mode, but they can also be customized. The current Focus mode is automatically synced across Apple devices.
Notifications Summary: Can collapse all "non-time-critical" notifications into a morning summary and an afternoon summary, for example. Messages with contacts are still surfaced as received. iOS prioritizes information in notification summaries using on-device intelligence. Outside of Summaries, notifications will also have a more visual design with large icons.
On-Device Siri: Siri will now process voice recognition directly on-device by default, instead of sending your voice to the cloud. This change enhances privacy, make Siri much faster, and allows Siri to process certain simple commands without an Internet connection.
Shared with You: A variety of Apple apps will now highlight things that people have shared with you or mentioned in Messages conversations. For example, the Photos app will now automatically integrate photos that people have sent you, and the Podcasts app will highlight podcasts that people have texted you about.
Health Sharing: The updated Health app will let you securely share health data of your choice with family, caregivers, or a care team. A new Walking Steadiness feature uses on-device sensors and intelligence to help users proactively manage their risk of falling. Can set custom alerts based on shared data.
App Privacy Report: A new section in settings will let you see what each app is doing behind the scenes in detail. This includes which special permissions were used and when, and what internet servers the app is contacting and how often.
Enhanced Find My: Separation Alerts will pro-actively tell you if you've left something in an unfamiliar location, letting you know before you realize you've lost the item.Find My also has new capabilities to help locate a device that has been turned off or erased.
Translate: Live Translate enables more natural conversations between two languages. Systemwide translation allows users to translate text anywhere on iPhone.
Updated Messages: Lets you know when you're trying to message someone who has Do Not Disturb enabled.
Redesigned Tabs in Safari: In Safari, tabs will now be accessed from a bar at the bottom of the screen. Swipe it sideways to switch tabs, or swipe up to access a grid of tabs.
New Weather app: New are full-screen weather maps, richer graphics, and notifications when rain or snow starts and stops.
Updated Spotlight: The universal search feature now includes richer results for your contacts, public figures, and locations.
Object Capture API: This makes it much easier for developers to create apps that can easily perform a "3D scan" of an object using only an iPhone's cameras.
No messages