Anker's New GaN Chargers Offer High Wattage in Tiny Package
Article Comments 3
May 24, 2021, 1:06 PM by Rich Brome @rbrome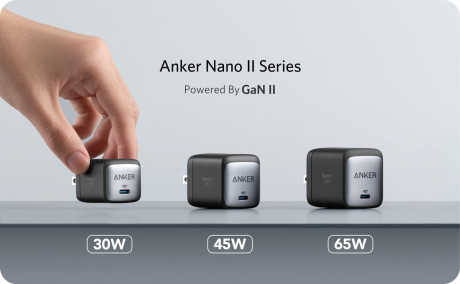 Anker today announced the Nano II series compact fast chargers. Available in 30, 45, or 65-watt versions, these tiny chargers use chips made of GaN (Gallium Nitride) material instead of silicon. GaN components enable the charger to handle a lot of electric current in a small form factor without overheating (or throttling down charging to avoid overheating). The smallest charger — the 30W model — is the same size as a standard iPhone charger but can fast-charge phones as well as devices as large as the new MacBook Air at full speed. The 45W and 60W models are only slightly larger, but can charge larger laptops and tablets at full speed. The 45W and 60W models also feature foldable plugs. All models support standard USB-C and Apple Lightning fast charging modes, as well as Samsung Super Fast Charging. The chargers range in price from $30 to $40. Pre-orders are open now; the chargers start shipping in the US in mid-June.
Anker Quality
These look fantastic. I hope they are not hot to the touch, some chargers out there get so hot they will burn you. Anker is a top shelf business.
I second the above. There are lots of knock offs online but Anker knows what they are doing. I'd love to see them make their larger power supplies a bit smaller though.