Xiaomi's Mi Mix Fold is First Phone with a Liquid Lens
Article Comments 1
Mar 30, 2021, 11:24 AM by Rich Brome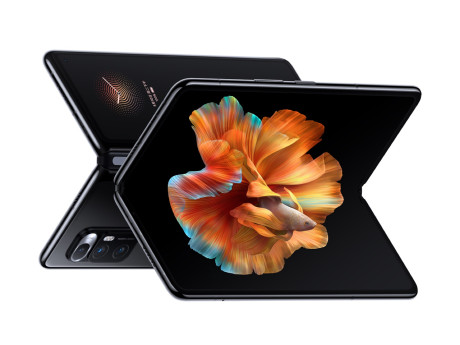 Xiaomi today announced its first foldable phone, the Mi Mix Fold. The phone is also the first in the world to use Liquid Lens technology on one of its cameras. The Liquid Lens consists of transparent fluid wrapped in film. The radius of curvature of the spherical surface can be accurately changed thanks to a high-precision motor. This enables one 8 megapixel camera to serve as both a 3x optical zoom telephoto camera as well as a macro camera that can focus at a distance of 3cm. Philips first announced liquid lenses for phones in 2004, followed by Varioptic in 2006. Varioptic and partner Seiko even announced manufacturing ramp-up of two specific models of liquid lenses designed for phones in 2008. But none of these made it to shipping phones at the time. Those early designs used electric current to bend the liquid, which differs from Xiaomi's more mechanical approach. The Mi Mix Fold sports a design very similar to Samsung's Galaxy Fold and Z Fold2, with a tablet-size flexible screen that folds inward like a book, and a large outer display similar to that on a standard smartphone. The phone also has a 108-megapixel main camera and 13-megapixel wide camera. Other features include Qualcomm Snapdragon 888 processor, 5G, quad speakers, and 67W fast charging. The phone goes in sale in China starting April 16th. Xiaomi phones are generally not designed for US networks, nor officially sold in the US.
Is this born to die?
I can't believe that there is a rear numerable market for these outlandish devices. I bet just like Moto this will be Stillborn. How do these ideas get approved? I think the global society is headed to hit a brick wall. I'm glad I don't own any of these stocks.