Asus ROG Phone 5 Maxes Out Specs, Adds a Rear Display
Article Comments
Mar 10, 2021, 11:43 AM by Rich Brome @rbrome
updated Mar 10, 2021, 11:51 AM
Updated: Added photos.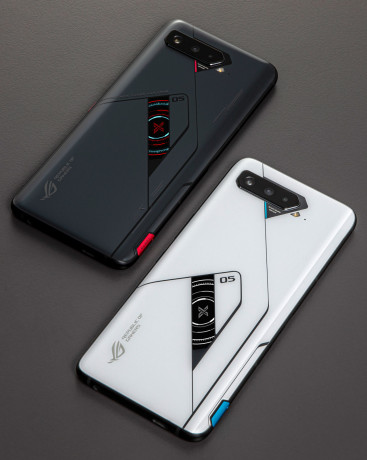 Asus today announced the ROG Phone 5, its newest flagship gaming phone, following the ROG Phone 3. The ROG Phone 5 brings the ROG Phone series up to date for 2021 with a Snapdragon 888 chip, Android 11, and 65-watt fast charging for its huge 6,000 mAh battery. The AMOLED display is also brighter and larger at 6.78 inches, and has an industry-leading 300 Hz touch sampling rate. The display specs are otherwise similar to the ROG Phone 3: 144 Hz refresh, HDR10+, and FHD+ resolution. The ROG Phone 5 will come in three versions. The standard model is available with 8 or 16 GB of RAM and 128 or 256 GB storage. A Pro model adds a small full-color display to the back, set at an angle, to show "customizable animations in response to a variety of system and in-game events". It's also available with up to 512 GB of storage. An Ultimate model steps up to 18 GB of RAM, and has a monochrome rear display. All three models use high-performance LPDDR5 RAM and UFS 3.1 storage. All three models also have sub-6 GHz 5G and will come in a North American version with support for nearly all of the 4G and 5G frequency bands used in the US, including band 77 for forthcoming C-band 5G networks. The ROG Phone 5 is the first in the series without an obvious air vent on the back for cooling, although Asus claims that its "GameCool 5" cooling system is "upgraded" to keep the processor from thermal throttling. The phone also has upgraded wireless, supporting Wi-Fi 6e and Bluetooth 5.2. A number of specs and features remain unchanged from the previous model, including the exact same array of cameras: 64 megapixel main, 13 megapixel wide, 5 megapixel macro, and 24 megapixel front camera. Other signature ROG Phone features remain, such as AirTrigger shoulder controls, front-facing stereo speakers, and an extra USB-C port on the side, for comfortable landscape gaming while charging. A 65W fast charger is included, and the phone also supports the Quick Charge 5.0 and USB-PD 3.0 fast charging standards. ASUS ROG Phone 5 series will be available in North America starting next quarter.
Advertisements article continues below...
No messages