Apple Intros Pricey Over-Ear AirPods Max
Article Comments 1
Dec 8, 2020, 11:39 AM by Rich Brome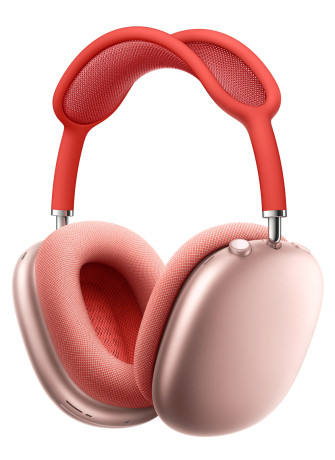 Apple is taking on its own iconic Beats over-ear headphones with AirPods Max, a new super-premium over-ear headphone set for $549. Features include Adaptive EQ, Active Noise Cancellation, Transparency mode, and spatial audio. The design includes a stainless steel headband frame, breathable knit mesh canopy where it touches the top of the head, and acoustically engineered memory foam ear cups. The right side sports a rotating "digital crown" control — similar to that on the Apple Watch —and a button. The AirPods Max are powered by 10-core dual H1 chips offering advanced computational audio features, including Adaptive EQ "to adjust the sound to the fit and seal of the ear cushions by measuring the sound signal delivered to a user and adjusting the low and mid-frequencies in real time". The 40mm dynamic drivers are custom designed by Apple. The headphones include standard AirPods features such as a simplified setup process with iPhones and sensors so music is automatically paused when an ear cup is lifted or the headphones removed. AirPods Max feature up to 20 hours of battery life, even with Active Noise Cancellation and spatial audio enabled. AirPods Max will run $549 and come in space gray, silver, sky blue, green, and pink. They're available to order starting today, shipping December 15th.
Why is Apple so bad?
So why does Apple suck? It sucks because of the price. ... It sucks because if Apple suddenly values a much needed accessory at $1000, you have to buy it. Apple sucks because they make great, high quality products at a ridiculous price, locked in to their own ecosystem with no freedom and control over their own device.