Qualcomm Explains How its Snapdragon 888 Will Make Flagship Phones More Powerful in 2021
Article Comments
Dec 2, 2020, 10:00 AM by Rich Brome
updated Dec 2, 2020, 12:26 PM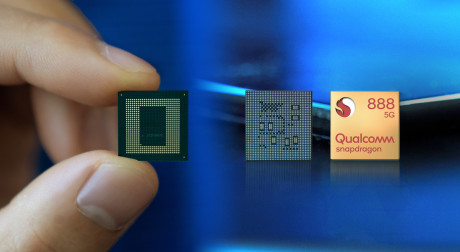 Qualcomm today fully announced the Snapdragon 888 chip and provided details on its features and performance. As the company's new top-end chip for phones, the 888 is expected to power many flagship-tier Android phones in 2021, just as its predecessor the 865 powered most Android flagships in 2020. While the 865 was a two-chip solution (processor + modem), the 888 is fully integrated in one chip. It uses a state-of-the-art 5nm manufacturing process for better efficiency. It's the first chip to support 5G CA (carrier aggregation) across TDD and FDD, sub-6 and mmWave, enabling faster 5G in more scenarios, including on US networks. The eight-core CPU offers a 25% performance boost compared to last year's 865. The GPU is 35% faster and 20% more power-efficient. The AI cores are 43% faster overall, with double the compute capacity, 3x performance per watt, and 26 TOPS (trillion operations per second). The ISP (camera processor) is 35% faster. New features of the 888 include:
A new 2nd-Generation Sensing Hub with 5x more AI performance and TensorFlow Micro to enable more low-power, always-on features like earthquake and car crash detection. The Sensing Hub can also tap into communication streams (such as GPS, 5G, Wi-Fi, and Bluetooth) for the first time, enabling more types of always-on intelligent features.
Support for capture of 10-bit color still photos, saved in HEIF format.
Triple-core Spectra ISP can handle three active cameras, simultaneously capturing three 4K HDR videos or three 28 megapixel still photos with zero lag.
CAI-compliant camera system, which allows the capture of cryptographically-sealed photos that then can be securely authenticated to confirm their source, and that they haven't been modified.
Support for new staggered HDR camera sensors, which offer computational HDR with low ghosting by taking multiple exposures of different lengths nearly simultaneously. The 888's triple ISP can then combine these exposures instantly. This enables computational HDR for video.
Variable Rate Shading (VRS), which can offer an increase of up to 30% in gameplay performance.
Game Quick Touch, for 10–20% faster touch response time.
A Type-1 Hypervisor that can run multiple OSes isolated at a hardware level, and let the user switch between them instantly. It can also be used to spawn a dedicated, isolated OS for each security-sensitive app on the phone.
Phones based on the Snapdragon 888 will start shipping in early 2021.
No messages