Samsung Galaxy Z Fold2: Full Details and Photos
Article Comments 3
Sep 1, 2020, 9:00 AM by Rich Brome @rbrome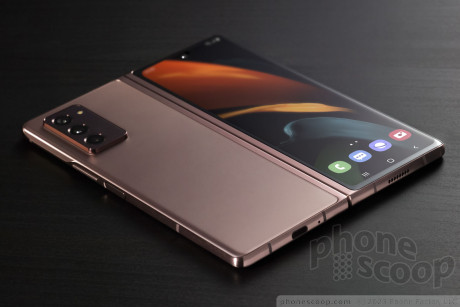 Samsung has revealed new details of its Galaxy Z Fold2 foldable phone, the successor to last year's pioneering Galaxy Fold. While Samsung has improved or refined most aspects of the design — including the hinge — the much larger outer display stands out, having grown from 4.6 to 6.2 inches, and now protected by Gorilla Glass Victus. The flexible inner display is also larger thanks to thinner bezels, and is protected by Samsung's proprietary Ultra Thin Glass material that debuted on the Galaxy Z Flip earlier this year. It also supports adaptive screen refresh up to 120 Hz. Both screens have a single hole punch for a 10-megapixel selfie camera. The three rear cameras (standard, wide, and 2x telephoto) are all 12 megapixel. It has a 4,500 mAh battery. It supports 25W fast charging, 11W wireless charging, and reverse wireless charging. Its radios include both sub-6 and mmWave 5G, UWB, NFC, and Wi-Fi 6. It's available in one spec configuration — 12 GB RAM + 256 GB storage (no memory card slot) — for $1999. Samsung is also expanding the "Galaxy Z Premier Service" included with all of its Z series phones with new VIP amenities such as Founders Card membership. Color options for the Z Fold2 are: Mystic Bronze and Mystic Black. Optionally, the hinge color can be customized, which a choice of four metallic hinge colors: silver, gold, red, or blue. Starting September 18th, it will be available from AT&T, T-Mobile, and Verizon, as well as unlocked directly from Samsung. Pre-orders start at midnight tonight. Read on for a photo gallery, full specs, and new software feature info.
Advertisements article continues below...
There are a few interesting software changes Samsung has made.
Flex Mode — which debuted with the Z Flip — shows a different interface in certain apps when the device is half-folded (at an angle neither fully open nor fully closed). The upgraded hinge makes it easy to position the device at a variety of angles, while still snapping fully open or closed. Flex Mode is useful in the camera app, for example, letting you use the phone as its own support instead of a tripod.
The camera app also includes a Dual Preview feature that shows a viewfinder on both displays, so both the photographer and subject can see preview the shot in real time.
A new Auto Framing feature lets you place the phone down, start recording video, and it will automatically zoom in to you as you move around.
An upgraded App Pair feature now lets you launch up to three apps at once into the side-by-side multitasking arrangement of your choice, in one tap.
You can also control whether apps launch in a special large-screen layout (such as a multi-column view for email, if they support that), or standard phone layout, if you prefer that.
Full Specs
Display, Main
7.6" Dynamic AMOLED, 2208 x 1768 pixels, UTG (Ultra Thin Glass), 120 Hz refresh
Display, Outer
6.2" Super AMOLED, 2260 x 816 pixels, Gorilla Glass Victus
Battery
4,500 mAh
Charging
25W fast wired
11W wireless
Wireless PowerShare
Processor
Qualcomm Snapdragon 865+
RAM
12 GB
LPDDR5
Storage
256 GB
UFS 3.1
Memory Card Slot
no
Rear Cameras
Wide: 12mp, f/2.2, 123º
Standard: 12mp, f/1.8, 83º, OIS
Tele: 12mp, f/2.4, 45º, OIS
Front Cameras
Inner: 10mp, f/2.2, 80º
Front Cover: 10mp, f/2.2, 80º
Wireless
Bluetooth 5.0
Wi-Fi 6
UWB
NFC
5G
mmWave and sub-6 GHz
Speakers
High Dynamic Dual (Stereo)
Other
Fingerprint (side)
HDMI and DisplayPort (up to 4K) over USB-C
Dimensions
Folded: 159.2 x 68 x 13.8–16.8 mm
Unfolded: 159.2 x 128.2 x 6–6.9 mm
Weight
282g
Water Resistance
no
OS
Android 10
If you can't afford it, don't buy it. Simple. Quit expecting new phones, with all their advancements, to remain at $300.