Hands On with the LG Velvet
Article Comments 3
Aug 21, 2020, 1:17 PM by Rich Brome
The Velvet is LG's 5G flagship phone for 2020. Instead of aiming for the very best specs on the market, LG has attempted to deliver a very premium 5G experience at a reasonable price. For example, the Velvet uses a Snapdragon 765 chip instead of Qualcomm's pricier 865. Did LG strike the right balance? In this hands-on, we take the Velvet for a spin to find out.
Design
LG's pitch introducing the Velvet to the world focused on design rather than technology. In a world where most phones look the same, a unique design is a smart strategy. Unfortunately, the design of the Velvet falls short. My first impression was that this looks like every other premium phone out there, and everyone else I showed it to had the same reaction. There's nothing really unique or striking about the design. It's not a bad design, it just doesn't stand out.
If anything, the design is a bit dated. Glossy, shimmering, slightly prismatic finishes on the backs of phones were all the rage last year. And yet that's exactly what LG has put on the Velvet. LG does offer fetching green and "sunset" finish options, but not in the US. At least Verizon will offer a red option, but AT&T is only offering silver and gray.
This year, industry leaders Apple and Samsung are offering matte glass finishes on their flagship phones. These finishes look and feel great, and offer the practical advantage of resisting fingerprint marks. One might describe those finishes as velvet-y. And yet this phone called the Velvet has no such finish, nor anything velvet-y about it. That's puzzling, and a shame.
fingerprints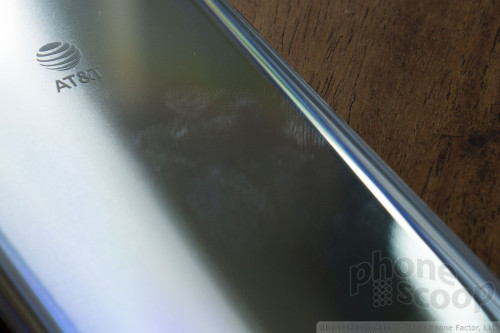 fingerprints
The body of the Velvet has a premium feel with good materials. But if you opt to go case-less, that glossy back is indeed a fingerprint magnet. The phone is a good width and quite thin and rounded, all making it feel good in hand. Where it pushes the limit is in how tall it is. It's an unusually tall phone, reminding me of recent Sony phones. The side buttons work well, except for the dedicated Google Assistant button, which is so rounded, slim, and slick that it blends in to the side frame a bit too well. That may reduce accidental presses, but I found it can be difficult to find and press intentionally.
Cameras
Most higher-end phones these days include a dedicated wide-angle camera. LG can proudly take credit for being first with this feature on its 2016 flagship, the G5. The Velvet does have a dedicated wide-angle camera, but it's weirdly hobbled by a measly 8-megapixel resolution. If anything, wide-angle cameras should have more resolution than the main camera, not less. When you're including so much more in the shot, you need more pixels to capture everything sharply. Indeed, my test shots with the wide lens lacked sharpness and detail. I don't understand how LG — the wide-angle camera pioneer — could screw this up so badly in its 2020 flagship phone.
G5 cameras / Velvet cameras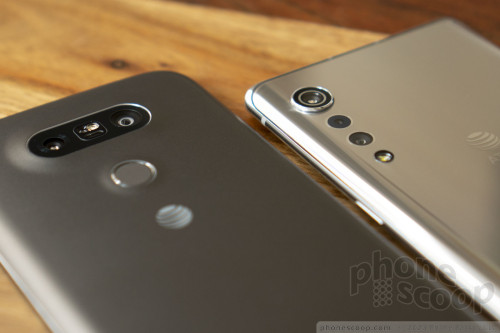 G5 cameras / Velvet cameras
In challenging lighting, the Velvet's camera didn't always meter well, often under-exposing shots. HDR helped some, but not enough, and HDR doesn't seem to be available for video, which is a shame.
I was excited to try out the variable-speed time-lapse. That sounds like a unique and fun feature. In practice, I found the "auto" and "1x" settings confusing, and generally always ended up using the "60x" setting. Only that top option really looked like true time-lapse to me. Other settings just looked like slightly sped-up video.
Dual Screen
The one truly unique feature that only LG phones have right now is Dual Screen, the extra-screen accessory that clips on like a flip case. LG has offered versions of this for most of its recent flagship phones, and the one for the Velvet is the most capable kind, offering an outer display for notifications and a double-jointed 360º hinge that can flip all the way around to fold against the back of the phone. It's just stiff enough to stay at any angle, so you can use it in "laptop" mode or like a kickstand.
Once you get used to it, the Dual Screen really transforms how you can use your phone. If you want to be truly productive using only your phone, you'll love Dual Screen. Or maybe you just want to sit in bed and watch videos while chatting on social media; it's great for that, too.
The software for controlling the Dual Screen is surprisingly intuitive. There is a learning curve, of course, but poking around where I expected, I figured it out quickly.
What I don't like about the Velvet's Dual Screen is its cheap plastic feel. It's a $200 accessory that will make your $700 phone feel like a $100 toy. It's also very difficult to remove the Velvet from its Dual Screen, and that cheap feeling meant I worried I was going to break it every time I removed it.
And while it's great that it flips all the way around so you can use the Velvet like a normal phone, in that configuration it's way too wide and boxy to hold comfortably.
Interestingly, the Velvet also supports a special desktop mode when you connect it to an external monitor or TV, kind of like Samsung's DeX. This is a neat feature that some road warriors might find useful. I'm not sure why it's not mentioned in any of LG's marketing.
Software
A "clean" version of Android this is not; if you prefer Google's Pixel software experience, an LG phone is not for you. LG has done a lot of heavy customization, and it's difficult to avoid. For example, even when you choose "original" icon shapes, most icons have LG's rounded-square design applied to them. There's no option to choose Google's design theme overall.
Certain LG tweaks seem buggy. For example, every time I tried to turn off a notification type, the options would disappear before I could choose one. And on first boot, it warned me not to remove the battery. It's not a removable battery.
Before I even received my Velvet, LG pro-actively sent me the statement:
Every OEM and network service provider preinstalls sets of apps on smartphones – this is true for both unlocked and network SKUs. LG values its relationships with our customers and our partners, which is why we aim to provide the best possible experience every time an LG smartphone is powered on.
Wow. I wondered: Just how much bloatware is going to be on this phone for them to basically apologize in advance?
Sure enough, if you get the AT&T version as we did, you're going to be saddled with an appalling mountain of bloatware. And it tries to trick you into a installing a bunch more during the setup process. Some of it, like the handful of gambling apps, can be deleted. But others — like Game of Thrones: Conquest, DC Universe, The CW, Booking.com, and AT&T TV — can only be "disabled", not removed.
I imagine AT&T is more to blame here, but regardless, it's a terrible user experience.
Bottom Line
In sum, this is actually a decent phone for $600, but it could be better. Price is the main selling point. Few phones get this close to flagship features and quality for $600.
If you'll get the Dual Screen and actually use it, then the Velvet is easy to recommend. There's nothing else like the Dual Screen experience, which works pretty well. Even with the extra cost of the Dual Screen, it's still less expensive overall than $1000 flagships, but offers way more functionality.
LG had the right strategy for 2020 in coming up with a more-affordable flagship phone with a unique design. Had they fully delivered on that promise, this might have been a home run. Even so, for $600, it's not bad. (It's a tougher sell on Verizon, where it runs $700.)
Confused
How is this considered LG's flagship 5G device, when it literally has inferior specs in every way to the V60? I guess the design is debatably better than the V60's, but that's really it.
I'm concerned that this dumbing down of specs is going to become a trend across all Android manufacturers. In what might be called an Apple to Oranges comparison, Android already had issues spec-wise going up against Apple's performance, even with to...
(continues)