Samsung and LG Launch New Affordable Phones on US Carriers
Article Comments 2
Jul 13, 2020, 3:24 PM by Rich Brome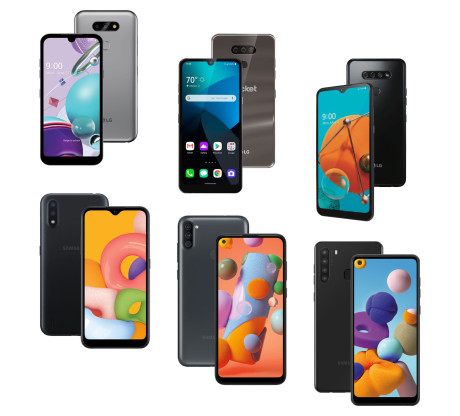 US carriers have launched a flurry of new entry-level phones from LG and Samsung in recent weeks. The phones include three new models from each of the two manufacturers. They range in price from $60 to $260.
LG's new most affordable phone goes by many names and ranges in price from $60 to $160. It's offered by just about every carrier except Verizon. T-Mobile, Sprint, and Metro offer it as the Aristo 5. Boost offers it as the Tribute Monarch. U.S. Cellular offers it as the K8x. All of those versions come with 32 GB of storage. Only AT&T's version comes with just 16 GB of storage, which they offer from AT&T Prepaid as the Phoenix 5, or from Cricket as the Fortune 3. Oddly, Cricket also offers this phone as the Risio 4. The Risio 4 and K8x have a front camera that's downgraded from 5 to 3 megapixel. Key specs in common include a 5.7-inch HD display with notch, MediaTek Helio P22 processor, 2 GB RAM, and a 3,000 mAh Battery. It also has a 13-megapixel main camera, dedicated wide-angle camera, and a rear fingerprint reader.
LG Harmony 4: Currently available only from Cricket (for $140), this step-up model has a larger display (6.1-inch), larger battery (3,500 mAh), and more RAM (3 GB). It also has USB-C and a better front camera. Regulatory filings indicate it may also come to Verizon prepaid and TracFone using the Sprint network.
LG K51: Already available from T-Mobile, Metro, and Boost, this model is now available from Verizon for $168. Compared to the Harmony 4, it offers an even larger display and battery. It's powered by a MediaTek Helio P22 processor.
Samsung A01: First launched on Verizon in April, Samsung's most affordable phone is now available from AT&T, Cricket, and Metro, for $115, $60, and $160, respectively. It has USB-C and fast charging, but no fingerprint reader.
Samsung A11: A big step up from A01, this $180 phone is now available from AT&T and Verizon. It will launch with Boost on July 21st at a limited-time price of $130. It has a 6.4-inch HD display with a hole-punch design, 4,000 mAh battery, fast charging, fingerprint reader, and a dedicated wide-angle camera.
Samsung A21: Now available from Verizon, T-Mobile, Metro, Sprint, and Boost. While the standard price is $250, Metro is charging $260 while Boost is currently offering it for $200. It has a similar display and battery compared to the A11, but has upgraded cameras, MediaTek Helio P35 processor, 3 GB RAM, and NFC.
Good to see NFC in some value models
OEM's need to do more of this for the pandemic (contactless payment)...those who do not will suffer...LG harmony4 coming to Tracfone for SPrint? Dont think so, Tracfone hasnt sold sprint for years...must be a typo.
Well, the Sprint network is now the T-Mobile network. But if it includes CDMA (and in this case it does), I call that "Sprint network".