New Moto e is a Big Upgrade Over Last Year's Model
Article Comments 1
Jun 5, 2020, 7:00 AM by Rich Brome @rbrome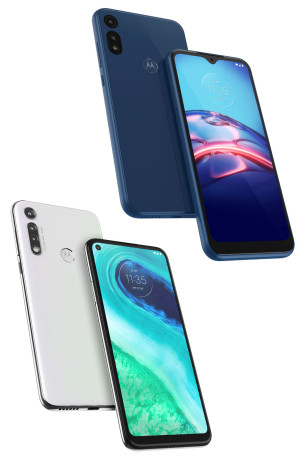 Motorola is refreshing its entry-level lineup with a new Moto e for 2020 and a new model at the low end of its (mid-range) g series. The Moto e (2020) and Moto g fast will both be available unlocked and with Boost, and the Moto e will be available with several other US carriers as well.
Moto e (2020): This year's Moto e delivers several major upgrades over last year's e6. It has a larger display (6.2-inch vs. 5.5-inch) thanks to a modern notch design. It also has a larger battery: 3,550 mAh vs. 3,000 mAh, and it steps up to a 600-series Snapdragon processor (the 632) compared to last year's 400-series chip. It also offers 32 GB of storage — double last year's amount — and adds both a depth camera and a fingerprint reader. Keeping things affordable, its front camera is 5 megapixel, it has 2 GB of RAM, and it uses a micro-USB charging connector. It does, however, have water-repellent coating, 3.5mm headset jack, and a memory card slot. It will be available unlocked for $150, and later sold by Verizon Prepaid, T-Mobile, Metro, US Cellular, and Xfinity Mobile. There are two variants with different network support: The version for Verizon supports fewer LTE bands, but, oddly, full support for AT&T's LTE network is only found on Verizon's version.
Moto g fast: The $200 Moto g fast is a more-affordable cousin to the recently-announced Moto g power (2020) and Moto g stylus. Like those models, it has a 6.4-inch display with a corner hole punch design, Qualcomm Snapdragon 665 processor, water resistance, a fingerprint reader, and triple rear cameras (including wide and macro). Making it more affordable is the HD+ display resolution, 3 GB of RAM, 32 GB of storage, and an 8 megapixel selfie camera. It has the same 4,000 mAh battery as the Moto g stylus and the same 16 megapixel main camera as the Moto g power. Other features include USB-C, fast charging, 3.5mm audio jack, and a memory card slot. So far, Boost is the only US carrier that has announced plans to carry the Moto g fast.
Both phones will be available unlocked starting June 12th from Best Buy, B&H Photo, Walmart, Amazon.com, and Motorola.com. Pre-orders start today.
source: Motorola
New Motos
Nice to see Motorola throw more variety into the midrange line ups.
Some are actually variants of the same phone with different descriptive name-sets.
Regardless other than the flagship Edge series it looks like Lenovo's buddy Motorola is finally setting itself better in the North American market.
Keep it up!